We always love seeing indie games make their debut at places, and this time around we got to see Ooblets debut at the PC Gaming Show. This game is kinda cute and cuddly as you're basically farming creatures for a living, and then living with them and having them around as pets. It's really funky to see in the trailer below, but the game feels like it has a lot of heart. Especially when you realize it was developed by two whole people. We have the full game description for you as well as some of the stuff you can do highlighted from their Steam page. No official release date was given, but the game will be coming to PC and Xbox One sometime this year.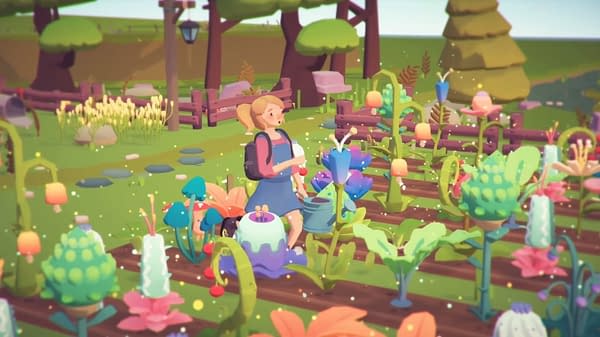 Ooblets is a farming, town life, and creature collection game inspired by Pokémon, Harvest Moon, and Animal Crossing. Manage your farm, grow and train your ooblets, run a shop, explore strange lands, battle wild ooblets and other ooblet trainers, and unlock the mysteries of Oob.

Start life in a little rundown farm that you'll cultivate, improve, and customize.
Customize your character's clothing, hair style, and general look.
Battle wild ooblets and fellow ooblet trainers using a turn-based RPG battle system.
Explore a variety of locations across Oob, all with their own biomes, plants, characters, and unique ooblets.
Grow new friends by planting ooblet seeds that will blossom into baby ooblets.
Join an Ooblet Club that matches your personality.
Unlock new shops and buildings in town as you complete quests and explore.
Upgrade your house with new decor, furniture, and upgrades.
Run a shop selling the produce you've grown on your farm and any other junk you've scrounged up.
Level up your ooblets and unlock new moves through battles and feeding them crops you've grown on your farm.
Collect seeds, items, furniture, machinery, badges, and friends along the way.
Enjoyed this article? Share it!