We Review The TurboGrafx-16 Mini Console From Konami
Back in the day when the console wars were red hot in the '90s, a few select kids got a different kind of gaming unit with the TurboGrafx-16. Most every kid of that generation usually had one of two main consoles in either the SNES or the SEGA Genesis. But then you'd have that one friend who had a subscription to a magazine that showed them everything this other console could do, and they wanted to experience that for Christmas. The console was only around for a short time, and depending on how you grew up, either you knew someone who owned it but only had a couple of games for it, or you only saw it in print or on TV. Like how many of its games were used on Nick Arcade as part of the Video Challenge. Once it was discontinued in 1994, it faded into gaming history as one of those "what if" kind of consoles where people respect what it could do, but it had a few things going against it. (Like bad marketing, and two other companies dominating the market.) Now, Konami has brought this console back to life as people are reliving their childhoods through retro consoles with the TurboGrafx-16 Mini.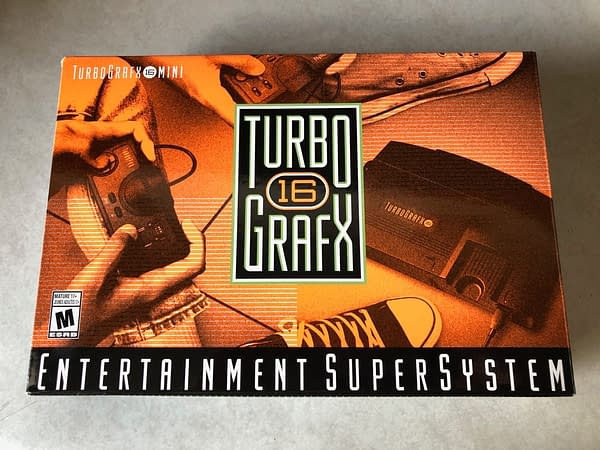 TurboGrafx-16 Mini: What's In The Box!?
So let's start with the basics and examine what all comes in this unit. First, you get the console itself, which is pretty much a near-perfect replica of the original. You get an HDMI cord, a USB power cord, and a controller that matches the original. A couple of things off the bat, while it's nice to see a USB power source, there's no AC adapter. Meaning that unless you have a USB power source nearby on a console or some other source to power it, you'll need to go buy one. Second, a tad disappointing that there's only one controller in the box. The company did send us a link to an approved controller sold by HORI, but that's the only option that is officially working with Konami to make extra controllers. Most every other mini console we've reviewed comes with a second controller, so it's puzzling why they chose to not include it here. Especially when there are games for two players.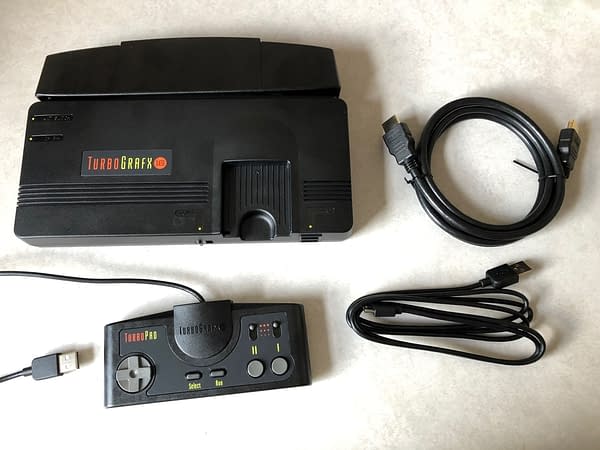 The back of the unit is a snap-on attachment that is basically here for show because the console is designed differently from the original and doesn't require any of the extra tech and cooling attachments as the first. As you see in the picture below, the only things it covers are the HDMI port and the power supply port. The back piece does give you options to cover stuff up and store the extra cord length in so it looks a little like the original. But there's little here that matches the main console. The front looks pretty much the same, aside from the fact you can't insert a card. The controller port has been replaced with two USB ports, and the power switch works the same as the original. it even has a small plastic piece come out that used to lock the cartridge in place.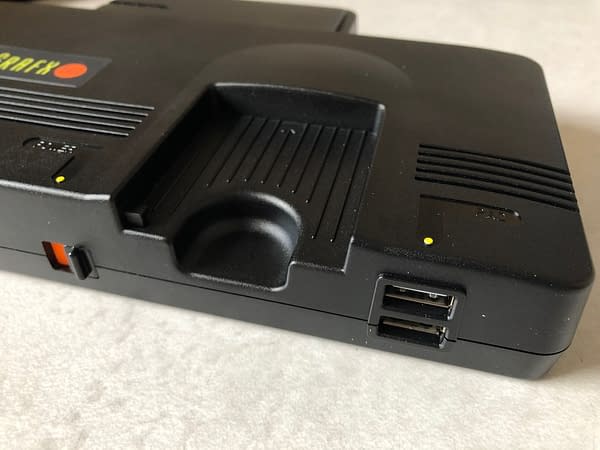 TurboGrafx-16 Mini: What Can It Do?
The library in here is going to make hardcore gamers smile. From the picture below, you'll see in the lower right corner it says PC Engine. You can swap between that library (which is a lot of Japanese titles and lesser-known CD titles) and the TurboGrafx-16 library (most of which were released in Europe and North America) at any time. As you're going through the menus you'll be able to select any game, which comes with a little animation of a cartridge being inserted or a CD starting up. They even have the sound effects of doing so which is a nice touch. From there, you're in the game. Every title on here operates the same as it would if you popped in the original. Classics like Bomberman '93, Splatterhouse, R-Type, Bonk's Revenge, Ys Book I & II, Ninja Spirit, Gradius, Dungeon Explorer, and more. To change out, you hit the middle two buttons to save the game in a "save spot" or just return to the menu. They even throw in little references to not having the right system card on certain games for that actual nostalgia throwback.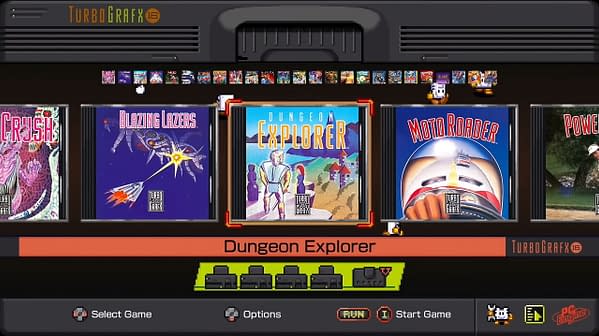 The library itself is awesome, but it comes with a bit of an issue if you can't read Japanese. Many of the games on the PC Engine menu are the originals, all the way down to the text. Which if you're popping in the original Ys I & II, that can be a problem as it comes with the original kanji text. However, the North American release of Ys Book I & II is in English. So, on the one hand, they went for authenticity, while on the other hand, it doesn't do much good if you can't understand the language. That's going to be a drawback for some because of the 57 titles on this console, 32 of them are in Japanese. So more than half the library. But it did make me smile to see many of their hardcore space shooters were here, the Japanese version of Castlevania: Rondo of Blood, and some rare out-of-print titles that will cost you a good chunk of change at trade shows or online trying to find. Much like Star Fox II on the SNES Mini, you now have access to rarities that only hoarding collectors have been keeping to themselves.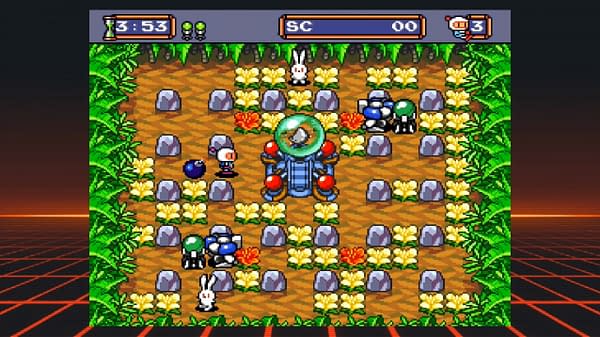 The console comes with a few menu options to make things fun, as you can see here they give you multiple display options. If you want that traditional 4:3 look, you got it. Want it in HD? Want it in pixel-perfect? Those options are there. The weirdest and most useless of the bunch, however, is the Turbo Express. Which was a portable version that looked more like a small radio than a gaming console, but it had a built-in TV for you to play games on. If you seriously want to look at it like that, you can. You can change out the background wallpaper if you'd like, play with the menu, even pull up instructions where the game will put a QR code on the screen so you can read them directly from your mobile device. Because it's Konami, there are also three hidden games. We'll keep the spoilers out of this review so you can enjoy finding them yourself if you intend to purchase.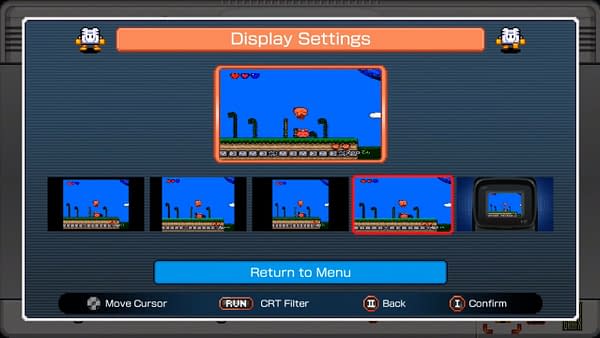 Overall Opinion
We had a lot of fun playing the TurboGrafx-16 Mini, but we have to acknowledge this is a niche product for a niche audience. Because the original wasn't a big hit, it doesn't stand out in the minds of old-school gamers like other consoles do. This is going to attract one of two gamers: people reliving their past and people who have never tried these games and want to play them, both without forking over tons of cash. It's still a bummer that, for whatever reason, they decided to essentially cheapen out on having a second controller and are forcing you to pay another $25 to get one through HORI. The alternative is using another controller with a USB port, but after experimenting with a standard modern controller and several other versions from other retro consoles, its clear you need one that matches or else you get mixed results. It is a very awesome console and is a great purchase for those looking for retro fun will get all their money's worth. Which they should, considering it costs $100. There are enough games to keep players coming back if they truly want a new experience from a particular time in gaming that most never played. As a reviewer who only played it a handful of times as a kid, this was a great experience and it will be treasured under my TV for years.