'Aladdin' Live-Action Sequel is Coming, Oscar Nominees Will Pen Script
Aladdin surprised everyone last year at the box office, grossing over $1 billion and receiving praise from audiences. Now, Variety is reporting that a sequel is for sure happening. Once the film came out last year and was so successful, Disney knew they needed to make another one, and now with writers John Gatins (Flight) and Andrea Berloff (Straight Out of Compton) they seem to have found their story. Nothing confirmed about the return of director Guy Ritchie, or the cast including Mena Massoud, Naomi Scott, or Will Smith quite yet.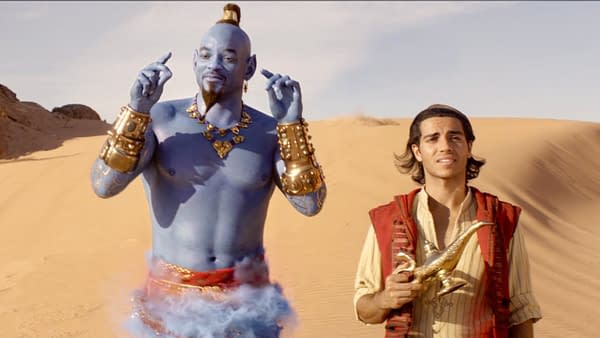 Aladdin became the forth live-action Disney remake to cross the billion dollar mark, joining The Lion King, Alice in Wonderland, and Beauty and the Beast. This one has to be the most shocking though, especially after the first trailer debuted and the look of Will Smith's Genie was panned everywhere. The film succeeded on strong performances from the three leads, and putting their own spin on the story. A straight redo of the animated film would have been a failure, that they didn't do that made it feel fresh and audiences responded to that. Hopefully the Aladdin sequel will follow that same path.
Word to the wise though- do not take from the two animated sequels. Return of Jafar and King of Thieves are both…not good. Early indications are that the live-action Aladdin sequel will avoid those and tell an original story, thankfully.
First reported by Variety