'Peanuts in Space' Apollo 10 Documentary Greenlit for Apple TV
The world of Peanuts was never short on imagination, and in the upcoming "documentary" Peanuts in Space: Secrets of Apollo 10 we get an answer to the question: "Was Snoopy a world famous, top-secret astronaut?"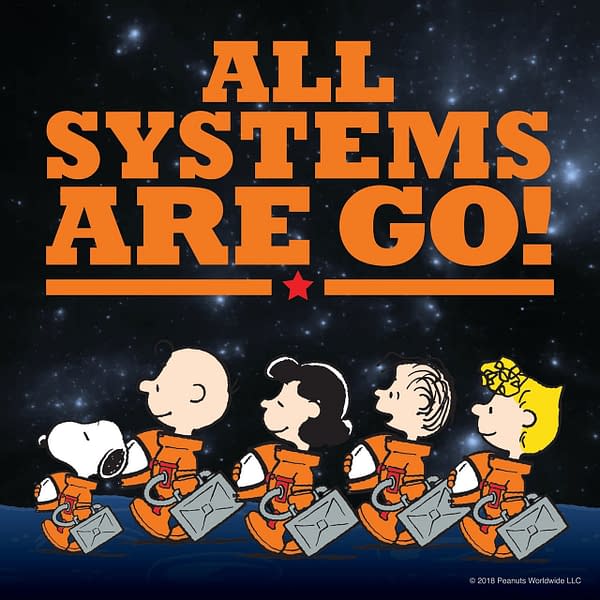 Peanuts in Space from Mogan Neville, Imagine Documentaries and Peanuts Worldwide, LLC collaborated on what Deadline Hollywood describes as "a documentary of sorts". Written by Aaron Bergeron, the film spoofs the May 1969 NASA Apollo 10 mission requiring the lunar module to skim the moon's surface within 50,000 feet and scout a site for the upcoming Apollo 11 moon-landing.
Based on the popular Peanuts comic strip created in 1950 by Charles M. Schultz, the lovable characters of Charlie Brown, Linus, Snoopy, Woodstock, Sally, Peppermint Patty, Marcy, Lucy and the rest of the gang became an American staple for over half a century. Schultz almost drew 18,000 Peanuts strips in his 50 year-career until his death in 2000. His legacy spans five feature films, 47 television specials, three educational films, two TV series, 30 video games, and several documentaries spanning both TV and film.
This isn't the first time the Peanuts gang "worked" with NASA. In 2014, Warner Bros. released This is America, Charlie Brown which includes a sequence at a space station.
The film features Imagine's Ron Howard as himself, and Jeff Goldblum as a self-published NASA historian. NASA and the Apollo 10 crew – Gene Cernan, John Young, and Thomas Stafford named the lunar module "Snoopy" and the command module "Charlie Brown."
If the film blends the animated Peanuts and live-action, this wouldn't the first time. It's the Girl in the Red Truck, Charlie Brown aired on September 27th, 1988 for CBS.
Peanuts in Space is produced by Imagine Documentaries, DHX Media and Tremolo Productions with Brian Grazer, Howard, Justin Wilkes, and Marc Gilbar producing for Imagine.
Peanuts in Space is set for release exclusively on Apple TV in May 2019.