In a movie as big as Avengers: Infinity War, there is bound to be a lot left on the cutting room floor. Whether those items are scenes that were cut late in the game or something that was just conceptual it's interesting to see what gets left out what gets left in. In the recent issue of Backstory Magazine (via The Playlist) writers Christopher Markus and Stephen McFeely talked about one of the scenes that ended up not making it in, and it sounds like a real shame.
"We had a couple of really cool versions of an action sequence illustrating what Steve, Natasha, and Falcon – basically the Secret Avengers – have been up to. They kicked a lot of ass and it was brutal," says Markus.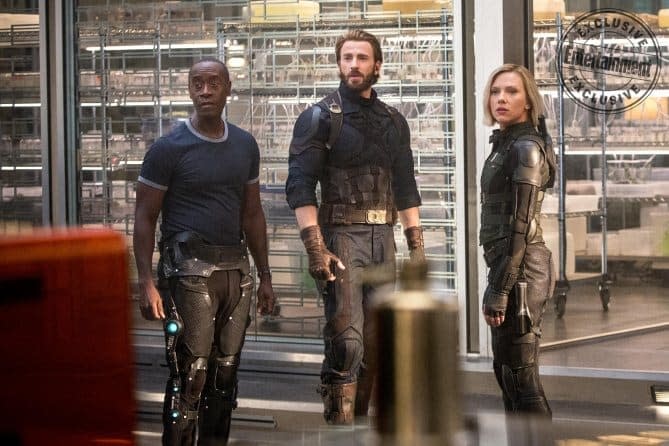 Steve, Natasha, and Sam had very little in the way of screen time in Avengers: Infinity War, and while the decision has been defended and doesn't hurt the movie overall, it would have been cool to see these three on the run. The action scenes in Marvel movies can be very character focused when they want to be and a perfect example of "show don't tell". We don't see people reacting to Steve rescuing them after being labeled a fugitive. We don't see Natasha eventually meeting up with the rest of them when she decides to run. A quick montage of these three would have been awesome, but considering how long the movie already is it makes sense that they decided to cut it.
Summary: As the Avengers and their allies have continued to protect the world from threats too large for any one hero to handle, a new danger has emerged from the cosmic shadows: Thanos. A despot of intergalactic infamy, his goal is to collect all six Infinity Stones, artifacts of unimaginable power, and use them to inflict his twisted will on all of reality. Everything the Avengers have fought for has led up to this moment – the fate of Earth and existence itself has never been more uncertain.
Avengers: Infinity War, directed by Anthony and Joe Russo, stars Robert Downey Jr., Josh Brolin, Mark Ruffalo, Tom Hiddleston, Chris Evans, Chris Hemsworth, Jeremy Renner, Chris Pratt, Elizabeth Olsen, Sebastian Stan, Benedict Cumberbatch, Paul Bettany, Chadwick Boseman, Benedict Wong, Zoe Saldana, Karen Gillan, Vin Diesel, Dave Bautista, Pom Klementieff, Scarlett Johansson, Don Cheadle, Tom Holland, Bradley Cooper, Sean Gunn, and Anthony Mackie. It's out now.
Enjoyed this article? Share it!