Black Panther: Wakanda Forever – A Cut Scene Where Riri & Shuri Bond
Black Panther: Wakanda Forever star Dominique Thorne describes a cut scene between Riri and Shuri that got cut where the two girls got to bond.
---
Black Panther: Wakanda Forever introduced a lot of new faces to the Marvel Cinematic Universe, but one that already has a show coming soon right after her debut is Riri Williams, aka Ironheart, played by Dominique Thorne. Riri played an essential role in the film, but one of the coolest parts of the movie was seeing her interact with Shuri. Both of these characters are burdened and blessed with extreme intelligence, which can make it hard for them to connect with people because they are operating so far above everyone else. In a new interview with Collider, Thorne talked about a scene from the movie that didn't make it into the final cut. It was an extended scene between Riri and Shuri while they were held captive in the Talokan cave.
"But there were a couple moments in the cave in Talokan between Shuri and Riri that really work to establish, I think, more of a sisterhood between them. It connects them a little bit more on the things that we all associate with these two women, which is their intellect, their brilliance, the naturally occurring brilliance that they possess. In some of those cave sequences, we got to see them notice that in each other, which, for both of these characters, is almost like a breath of fresh air and also something completely new."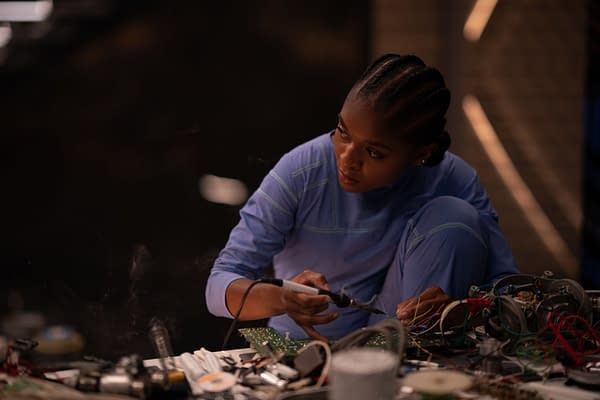 Thorne elaborates that the scene helped show that these two characters finally found intellectual equals and someone they didn't have dumb themselves down for. They could talk to each other, and Thorne thought this scene in Black Panther: Wakanda Forever was important for both of these characters.
"[T]o get to see them speak their language and not have to translate it for in Shuri's case, staff to execute, or in Riri's case, professors to understand her, but to speak freely and to be understood and supported. And from that point, get to bond and know more about each other and talk about… There were moments talking about how Riri came to build her first machine, and Shuri talking about the impact that her brother had on her."
People have wanted to see the young geniuses of the Marvel universe get together for a while now, but it's also looking more and more likely that we are getting some form of the Young Avengers in the MCU. Between Riri, Kate, and even Shuri could be considered a member now, there is practically an entire team right there and waiting for someone to write the script. We didn't get to see Shuri and Riri have that sort of back-and-forth in Black Panther: Wakanda Forever, but maybe we'll see it in another movie or show down the line.
Black Panther: Wakanda Forever – Cast, Summary, Release Date
Cast: Letitia Wright (Shuri), Lupita Nyong'o (Nakia), Danai Gurira (Okoye), Winston Duke (M'Baku), Florence Kasumba (Ayo), Dominique Thorne (Riri Williams), Michaela Coel (Aneka), Mabel Cadena (Namora), Alex Livinalli (Attuma), Tenoch Huerta (Namor), Martin Freeman (Everett Ross), Angela Bassett (Queen Ramonda).
In Marvel Studios' Black Panther: Wakanda Forever, Queen Ramonda (Angela Bassett), Shuri (Letitia Wright), M'Baku (Winston Duke), Okoye (Danai Gurira), and the Dora Milaje (including Florence Kasumba) fight to protect their nation from intervening world powers in the wake of King T'Challa's death. As the Wakandans strive to embrace their next chapter, the heroes must band together with the help of War Dog Nakia (Lupita Nyong'o) and Everett Ross (Martin Freeman) and forge a new path for the kingdom of Wakanda. Introducing Tenoch Huerta as Namor, king of a hidden undersea nation, the film also stars Dominique Thorne, Michaela Coel, Mabel Cadena, and Alex Livanalli. Black Panther: Wakanda Forever, directed by Ryan Coogler and produced by Kevin Feige and Nate Moore, opened in U.S. theaters on November 11, 2022. It will stream to Disney+ on February 1, 2023.