BTS' New Film, Bring The Soul: The Movie Launches Globally on August 7th
My eldest daughter is currently asleep but she will wake up to this news. And I know the first thing she will ask me in the morning is about booking tickets for this movie.
The latest BTS film Bring The Soul: The Movie will be in global cinemas from August 7th, following the South Korean band on their Love Yourself World Tour. Oh and they have a poster as well.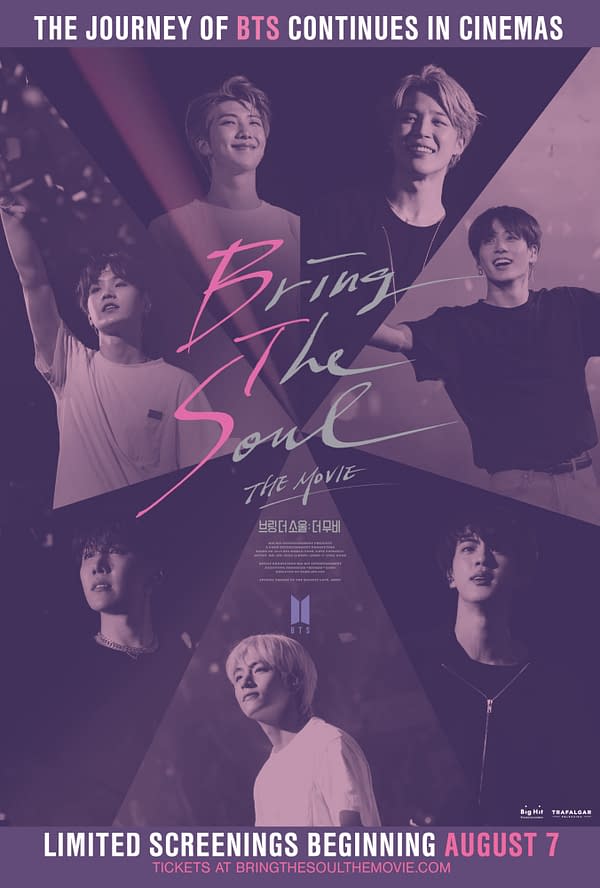 Bring The Soul: The Movie is the third film from BTS following 2018's release of Burn the Stage: the Movie, which reached a box office of $18.5m, highest grossing global event cinema release of all time and 2019's Love Yourself in Seoul,.
This latest film finds the band at the end of their Love Yourself tour in Europe, when the band held 24 concerts in 12 cities. Including a certain London Wembley show that you may have seen me take my daughter too.
On the day following the final Paris concert, on a rooftop table in the city, the boys begin a small after-party, sharing their own stories as never heard before.
Marc Allenby, CEO of Trafalgar Releasing has said on the release: "Trafalgar Releasing is thrilled to collaborate with Big Hit Entertainment again for Bring The Soul: The Movie giving fans around the world an intimate opportunity to see the band following their landmark Love Yourself tour. The Army are truly a community, and we are excited to bring them together for an all-new BTS experience in cinemas worldwide."
Tickets will be on sale from the official film website beginning Wednesday, July 3rd. I wonder how long it will take to crash?
Title: BRING THE SOUL: THE MOVIE
Director: Park Jun Soo
Cast: RM, Jin, SUGA, j-hope, Jimin, V, Jung Kook
Produced by: Big Hit Entertainment / Camp Entertainment
Distributed by: Trafalgar Releasing
Release date: August 7 2019