Channing Tatum Finds A New Friend In The Trailer For Dog
Channing Tatum is stepping behind the camera to direct a buddy comedy film titled Dog, about an Army ranger and an Army Ranger dog forming a bond on a trip to a fellow soldier's funeral. Sad premise and I would probably call this more of a dramedy. Joining Tatum and Lulu, the dog in the film are Jane Adams, Kevin Nash, Q'orianka Kilcher, Ethan Suplee, Emmy Raver-Lampman, Nicole LaLiberté, Luke Forbes, and Ronnie Gene Blevins. Expect lots of tears, if you can believe it. Check out the trailer and poster for the latest Channing Tatum film below.
Channing Tatum Directs, And The Dog Steals The Show
"Dog is a buddy comedy that follows the misadventures of two former Army Rangers paired against their will on the road trip of a lifetime. Army Ranger Briggs (Tatum) and Lulu (a Belgian Malinois dog) buckle into a 1984 Ford Bronco and race down the Pacific Coast in hopes of making it to a fellow soldier's funeral on time. Along the way, they'll drive each other completely crazy, break a small handful of laws, narrowly evade death, and learn to let down their guards in order to have a fighting chance of finding happiness." MGM scooped up the rights to this film back in March 2020.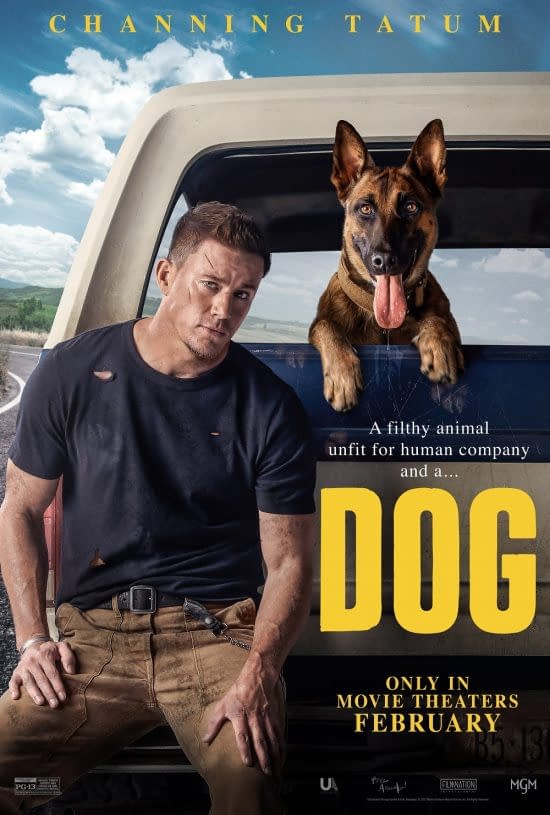 2022 is the big comeback year for Channing Tatum. He has this film and is starring with Sandra Bullock in the romance-comedy-action film The Lost City. It feels like he has been away for quite some time, I think since he was in the second Kingsman film, if I recall correctly. Anyway, I am here for any story about bonding with a dog, as BC is pretty doggo obsessed behind the scenes. Maybe we can schedule a group watch for us on staff!
Dog will be in theaters on February 18th.