Matt Smith Creeps You Out in First Trailer for 'Charlie Says'
American Psycho director Mary Harron's newest film Charlie Says has debuted a trailer this morning. Starring Doctor Who's Matt Smith as notorious serial killer Charles Manson, the film tells the story of the three women who helped him perpetrate his crimes and a graduate student's (Merritt Wever) attempts to rehabilitate them. Check out the trailer below!
Years after the shocking murders that made the name Charles Manson synonymous with pure evil, the three women who killed for him—Leslie Van Houten (Hannah Murray), Patricia Krenwinkel (Sosie Bacon), and Susan Atkins (Marianne Rendón)—remain under the spell of the infamous cult leader (Matt Smith). Confined to an isolated cellblock in a California penitentiary, the trio seem destined to live out the rest of their lives under the delusion that their crimes were part of a cosmic plan—until empathetic graduate student Karlene Faith (Merritt Wever) is enlisted to rehabilitate them. Convinced the prisoners are not the inhuman monsters the world believes them to be, Karlene begins the arduous process of breaking down the psychological barriers erected by Manson. But are the women ready to confront the horror of what they did? Boundary pushing auteur Mary Harron (American Psycho, I Shot Andy Warhol) presents a provocative new perspective on one of the most notorious crimes of the 20th century.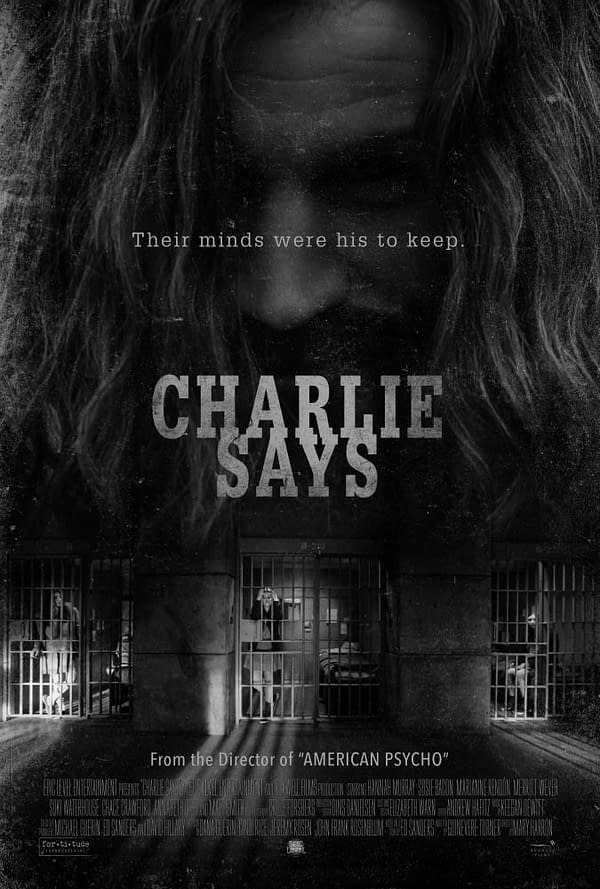 Charlie Says, starring Matt Smith, Chance Crawford, Sosie Bacon, Annabeth Gish, Suki Waterhouse, Hannah Murray, Odessa Young, Marianne Rendon, Carla Gugino, Kaylie Carter and Merritt Wever and directed by Mary Harron opens in theaters on May 10, and will be available OnDemand on May 17.