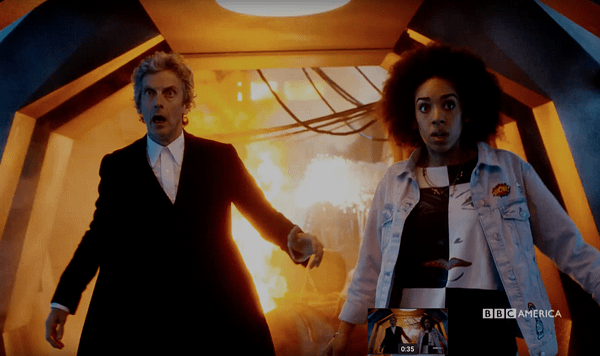 April 15 will see the beginning of the end for Peter Capaldi's turn as The Doctor, as Capaldi will leave the show to make way for new showrunner Chris Chibnall and a new Doctor that Chibnall can call his own. But wipe away those tears — there's still time to enjoy Capaldi in the role, and you can even do it on the big screen, at least in the U.S., because Fathom Events is bringing the season 10 premiere to 550 movie theaters around the country. The episode will screen in theaters for two nights online, on Monday, April 17 and Wednesday, April 19,
"But Bleeding Cool," you say, "why would we want to pay see an episode we can watch from the comfort of our couches for free?"
What kind of fan are you?! Okay, a cheap one. Fine. But Fathom has some extras in store for value-conscious fans. In addition to seeing the pilot in theaters with your fellow rabid Whovians, you'll also see the first episode of the Doctor Who spinoff, Class, as well as a special bonus feature called Becoming the Companion in which fans will "travel with new companion Pearl Mackie from the London stage through the doors of the TARDIS to a once-in-a-lifetime role," including interviews with Mackie, Capaldi, and departing showrunner Steven Moffat, and narrated by Ingrid Oliver.
If you're still not convinced, you can take your ticket stub to Hot Topic for 25% off Doctor Who merchandise (and pick up some manic panic, studded pleather dungarees, and Marilyn Manson CDs while you're there – don't ask us, we haven't been to Hot Topic in about twenty years). You can also get your hands on some free Doctor Who comics on comiXology if you buy your tickets through Atom Tickets.
Finally, attendees at the event may get to EXCLUSIVELY learn who the next Doctor will be, and you'll be really surprised by who she is!!! Okay, we just made that last one up. But the other stuff is pretty cool.
Visit the Fathom Events website to find out where Doctor Who is playing near you and purchase tickets.
Enjoyed this article? Share it!