New Children Of The Corn Film Details Revealed, Filmed During Pandemic
Children of the Corn fans, a new film is on the way, and it was filmed during the pandemic. The new movie won't have anything to do with the original 1984 film or the series that has followed really. Instead, it will reimagine the story from the original Stephen King novel somewhat, using it more as a jumping-off point. Elena Kampouris ("Before I Fall") and Kate Moyer ("When Hope Calls") starring, as well as well known Australian talent Callan Mulvey ("Avengers: Endgame") and Bruce Spence ("The Lord of the Rings: The Return of the King"), are the actors in this version, with Kurt Wimmer (Equilibrium, Ultraviolet) directing and being produced by Lucas Foster. They talked about the precautions they took on set to Variety.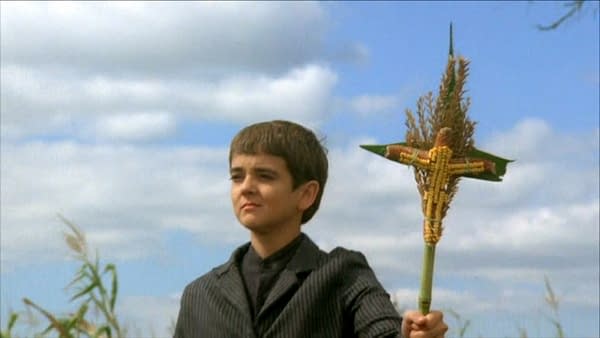 "You can theorize all you like about safety protocols, but until you get on set, you don't really know. But I can now tell you it is impossible to keep a camera crew 1.5 meters apart," producer Lucas Foster ("Ford v Ferrari") told Variety. "We ended up taking hundreds of measures. We did not trust the whole. Instead, we broke down every scene separately. Night. Day. Crowds. Interiors. And so on, assessing different levels of risk," Foster said. "We had the insurance in place before we hit the ground, and I made sure to have paid the premiums before I left the U.S.," Foster said. "I treated the film like an indie movie, one with no margin of error and lots of insurance," Foster says he took out three policies: for travel, production, and the kind of specifics that can occur on a horror-action movie. We did not use a completion bond. If we had, we would probably have been considered unfilmable and got shut down," Foster said.
It's still crazy to me that nobody really had any idea this film was coming until like two months ago. There is no planned release date or anything yet, but you can bet it will go straight to VOD streaming.