Copshop: Gerard Butler, Frank Grillo to Star in STX Action Thriller
Action movie staples Gerard Butler and Frank Grillo are taking their talents to Joe Carnahan's Copshop from Open Road Films and STX International. The story follows a small-town police station that becomes the unlikely battleground between a professional hitman (Butler), a smart rookie cop, and a double-crossing con man (Grillo) who seeks refuge behind bars with no place to run. Production is still looking for a female lead to star in the project. Written by Kurt McLeod and Carnahan, Copshop will be produced by Mark Williams and Tai Duncan on behalf of Zero Gravity Management alongside Warren Goz and Eric Gold of Sculptor Media; Butler and Alan Siegal of G-BASE Productions; and Carnahan and Grillo of WarParty Films. James Masciello, Matthew Sidari, and Tom Ortenberg will executive produce on behalf of Open Road.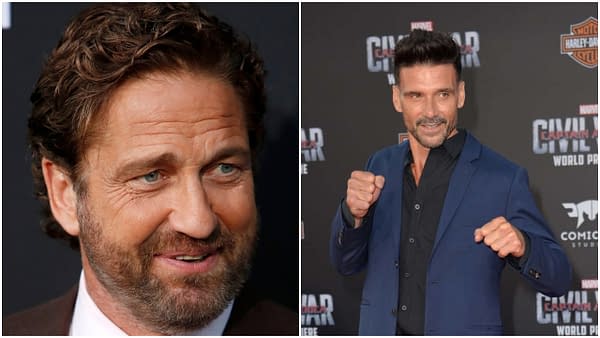 Production for Copshop is slated to start in October, with filming taking place in Georgia and New Mexico. STX will pitch the film to buyers at the upcoming Toronto International Film Festival with Open Road distributing throughout the US while STX International handles foreign sales and distribution throughout UK and Ireland. "We feel that this is a movie that can play big globally but be made sensibly, and we are always looking for this type of 'elevated genre' where the writing really drives the action and the drama. We also couldn't be happier to have someone with the box-office power of Gerard Butler as our partner in crime on this film," Carnahan and Grillo said in a joint statement. Ortenberg added, "I'm thrilled to be teaming up with Joe Carnahan for the fifth time, and Frank Grillo has been a good luck charm for Open Road since its inception, having been featured in Joe's film End of Watch, and Homefront. Putting Joe and Frank, together with one of the biggest action stars in the world in Gerard Butler in Joe's exciting script for Copshop is a recipe for a big theatrical hit." Butler stars in the upcoming disaster film Greenland for STX Films. Grillo's had a busy 2020 with the Showtime series Billions, and stars in Jiu-Jitsu and Boss Level for the Highland Film Group, and Once Upon a Time in Staten Island for Blumhouse.