Greenland Trailer Debuts, As Gerard Butler Battles The Apocolapse
Gerard Butler is battling the apocalypse yet again, as the trailer for STX Entertainment debuted the trailer for Greenland today. He and his family are trying to get to a sanctuary they are told exists asa a comet hurtles towards Earth. The film is directed by Ric Roman Waugh and besides Butler stars Morena Baccarin, Roger Dale Floyd, Scott Glenn, David Denman, Hope Davis, Andrew Bachelor, and Joshua Mikel. Greenland will be released into theaters on August 14th, and you can watch the trailer for the film below.
Greenland Synopsis and Poster
"A family fights for survival as a planet-killing comet races to Earth. John Garrity (Gerard Butler), his estranged wife Allison (Morena Baccarin), and young son Nathan make a perilous journey to their only hope for sanctuary. Amid terrifying news accounts of cities around the world being leveled by the comet's fragments, the Garrity's experience the best and worst in humanity while they battle the increasing panic and lawlessness surrounding them. As the countdown to global apocalypse approaches zero, their incredible trek culminates in a desperate and last-minute flight to a possible safe haven."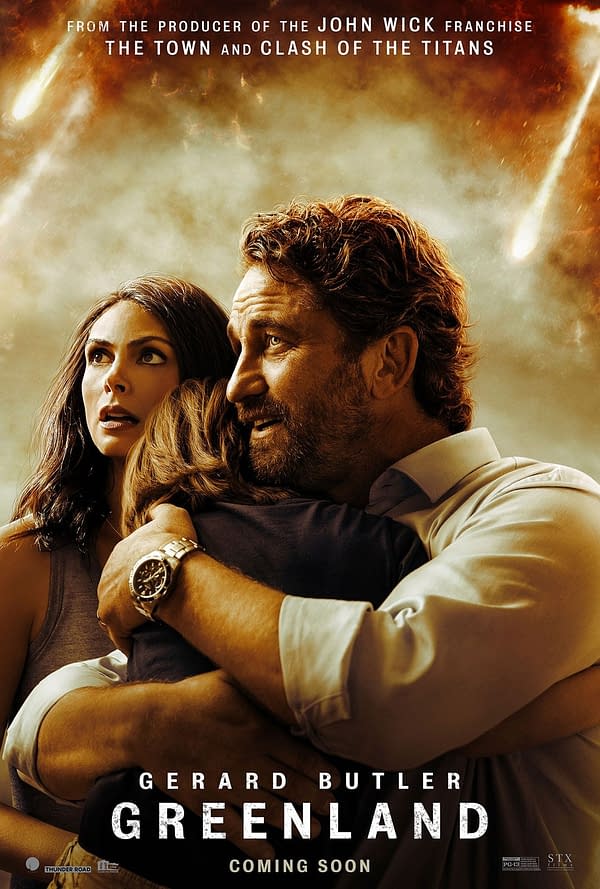 Well, this doesn't look too bad. After what has gone on in 2020 so far, I think that I am good on disaster pics, but I know that most people enjoy these, especially in theaters. Butler certainly has his fans as well, as the …Has Fallen films have proven. People just like seeing him yell and try to emote I guess. Greenland looks right up your alley if you are a fan of his or disaster pics in general, and should be a big, bombastic watch in theaters on August 14th. Perfect for the end of summer and theaters still getting on their feet.