David S. Goyer Rebooting 'Hellraiser' at Spyglass
We're not proud of the sound we just made, nor the stream of profanity-laced comments we just shared with colleagues about the news that David S. Goyer is writing a Hellraiser REBOOT for Spyglass.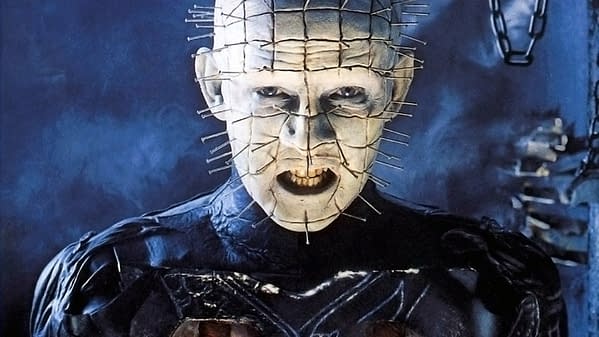 Oddly enough, we had reported about a possible Hellraiser reboot being eyed over at Blumhouse, which made more sense than this one. Other rumors suggested that maybe Doctor Strange director Scott Derrickson was looking at the title, but no such fire for that smoke. Yet.
Sure, Goyer is no stranger to the darker side of film and tv, so maybe he'll give us an interesting enough retelling of the Clive Barker-created character that we won't hate it?
Which sounds harsh, there have been several Goyer-written properties that we really liked- the Blade films, Constantine, Christopher Nolan's Batman trilogy and Man of Steel, but, Hellraiser requires a certain finesse.
Goyer said in statement about the news that he's "been a fan of Clive's work since the original Books of Blood paperbacks and 'The Hellbound Heart' novella. Having the chance to reimagine Pinhead and the Cenobites for a new audience is a nightmare-come-true. Gary is a true fan as well and we're committed to making something dark and visceral."
Spyglass's Gary Barber said this will be a "loyal, yet evolved reimagining," and that he and "Clive and I go back more than 30 years together. For generations, his brilliantly twisted and imaginative 'Hellraiser' haunted the minds of moviegoers with its searing imagery of Pinhead. David is the perfect storyteller to continue Clive's vision for a new theatrical version of 'Hellraiser.' "
This of course also raises (ha, get it) question of who we'd want to see take over the role of Pinhead.
We'll let you know what else we hear about this reboot.