Gladiator: Russell Crowe Reflects How Ridley Scott Sold Film to Him
When people think of the 2000 Ridley Scott film Gladiator, they remember how it helped solidify Russell Crowe as a bonafide star in Hollywood. The actor appeared on the June 24th Tonight Show to talk about its humble beginnings before it churned into his Oscar-winning performance. "Gladiator was a unique experience because the script that they had was so bad — it was just so bad," he told host Jimmy Fallon. "The producer did not know I was able to already get a copy, but the thing he said was, 'I don't want to send you the document we have because you won't respond to it. But I want to encourage you to have a meeting with [director] Ridley Scott. And here's the thing I want you to think about: It's 180 A.D., you're a Roman general and you're being directed by Ridley Scott.'"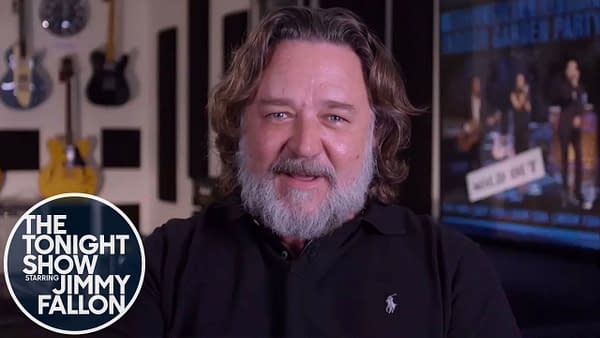 Crowe agreed to the meeting with Scott and the director delivered the pitch he needed to make to convince the actor to buy into the film and his role. "We just clicked on that first meeting," he said. "There was definitely a little bit of a risk involved with it at the time." Crowe's initial doubts about the film waned by the time production wrapped. "The collective energy of that cast was fantastic." In addition to Crowe's Best Actor honors, The Universal film won five Academy Awards including Best Picture, Best Costume Design, Best Sound, and Best Visual Effects. The film was nominated an additional seven times including his costar Joaquin Phoenix for Best Supporting Actor and Scott for Best Director. Currently ranked 41 in IMDb's list of top films, Gladiator raked in $188 million domestically and $461 million globally at the box office.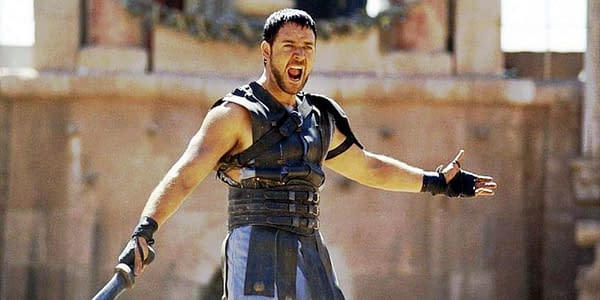 Gladiator Synopsis
The story followed a Roman general (Crowe) Maximus, who is betrayed by the Emperor's son Commodus (Phoenix) when he assumes the throne in an act of regicide. As punishment for Maximus' lack of fealty to his reign, Commodus sentences the general and his family to death. After Maximus thwarts the plan by slaying his would-be executioners and stealing his horse to ride back to his farm. Stripped of rank and desperate, the former right hand of Marcus Aurelius (Richard Harris) finds his wife and son's lifeless bodies. Overcome with grief, Maximus is dragged off and sold off as a slave to promoter and trainer Proximo (Oliver Reed). The former general uses his years of battlefield experience to survive in gladiatorial combat fighting his way to the top. You can watch the interview below.