Glass Onion Enters The "Most Popular Films" List On Netflix
The streamer has released the streaming numbers for the latest pack of releases for Netflix, and it looks like the investment of half a billion for the Knives Out films isn't quite the massive payday they wanted it to be, but it also isn't flopping either. The film has squeaked into the top ten of the most popular English movies based on the hours viewed in the first 28 days on Netflix. Glass Onion hasn't been out a month yet, so it might climb a spot or two higher by the time we hit the 28-day mark. The Most Popular Films list currently looks like this:
Red Notice
Don't Look Up
Bird Box
The Gray Man
The Adam Project
Extraction
Purple Hearts
The Unforgivable
The Irishman
Glass Onion: A Knives Out Mystery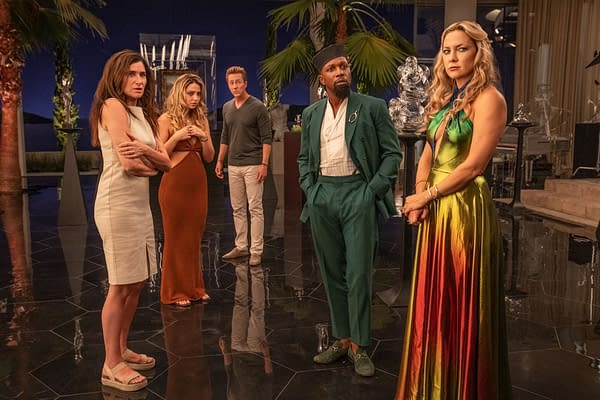 This week's top ten, December 26-January 1, does show that there is a wide variety of movies on Netflix. Still, the difference between the number one and two spots in terms of hours watched is staggering. Glass Onion was number one with over 127 million hours watched, with Roald Dahl's Matilda The Musical coming in at number two with 41 million. People were going for double features because Knives Out was number three with just under 17 million hours, followed by White Noise at just under 15 million, and The Invitation at just over 12 million.
Glass Onion
Roald Dahl's Matilda The Musical
Knives Out
White Noise
The Invitation
Guillermo del Toro's Pinocchio
Trolls
After Ever Happy
How the Grinch Stole Christmas
Bullet Train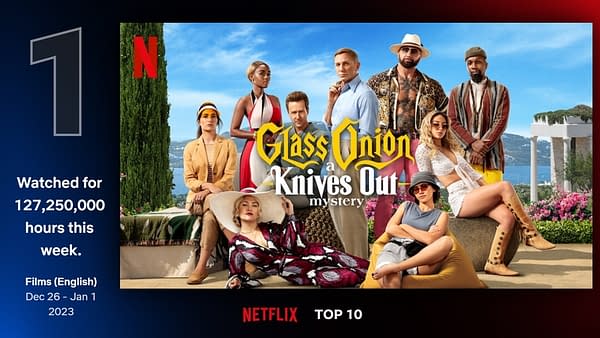 In terms of non-English films, the last seven days, the Italian murder mystery was 7 Days and a Murder, with just under ten million hours viewed. Troll, which has been absolutely killing it on Netflix, came in at number two with just over 6.5 million, with the Christmas romantic comedy from Mexico, A Not So Merry Christmas coming in at number three. Here is what the most streamed non-English films of the last seven days look like. Some of these might not be available on your Netflix, depending on where you are.
7 Women and a Murder
Troll
A Not So Merry Christmas
God's Crooked Lines
The Big 4
Double XL
My Name Is Vendetta
Mili
All Quiet on the Western Front
Tara VS. Bilial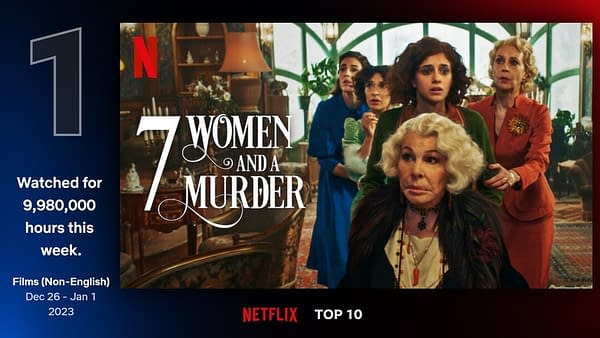 Are you looking for some non-English films to check out? Maybe the Most Popular list will help you out. There are a couple that we saw on the previous list. These include Troll, which, again, is just killing it with 155.5 million views in the first 28-days and All Quiet on the Western Front, which is probably going to be making an appearance in the non-English categories when awards season gets here at number four with 101.3 million.
Troll
Blood Red Sky
The Platform
All Quiet on the Western Front
Black Crab
Through My Window
The Takedown
Below Zero
My Name Is Vendetta
Loving Adults
This a reminder that a whole new world of cinema can be opened up to you if you give subtitled films a chance, and streaming services like Netflix are right there, and you're probably already paying the monthly premium, so you lose nothing by taking a chance. Also, a reminder that Netflix is the one that releases these numbers, so bear that in mind when you're looking at this list.
Glass Onion: A Knives Out Mystery: Summary, Cast, Release Date
Benoit Blanc returns to peel back the layers in a new Rian Johnson whodunit. This fresh adventure finds the intrepid detective at a lavish private estate on a Greek island, but how and why he comes to be there is only the first of many puzzles. Blanc soon meets a distinctly disparate group of friends gathering at the invitation of billionaire Miles Bron for their yearly reunion. Among those on the guest list are Miles' former business partner Andi Brand, current Connecticut governor Claire Debella, cutting-edge scientist Lionel Toussaint, fashion designer, and former model Birdie Jay and her conscientious assistant Peg, and influencer Duke Cody and his sidekick girlfriend Whiskey. As in all the best murder mysteries, each character harbors their own secrets, lies, and motivations. When someone turns up dead, everyone is a suspect. Returning to the franchise he began, Academy Award-nominated filmmaker Rian Johnson writes and directs Glass Onion: A Knives Out Mystery and assembles another all-star cast that includes a returning Daniel Craig alongside Edward Norton, Janelle Monáe, Kathryn Hahn, Leslie Odom Jr., Jessica Henwick, Madelyn Cline with Kate Hudson and Dave Bautista. It played in theaters from November 23rd to 29th and streamed to Netflix on December 23rd.