Kevin Smith Wraps Production of 'Jay And Silent Bob Reboot'
Kevin Smith,who's documented his journey on completing his latest film Jay and Silent Bob Reboot, has wrapped production.
Smith (who will write and direct the film) announced via Twitter the completion of filming after 21 days- the same amount of time it took for him to film his first film, Clerks 26 years ago.
What may be his penultimate film of his Askewniverse, Smith documented his journey on YouTube, releasing chapter 9 of "Road to Reboot" today as well:
Smith thanked his partner-in-crime, Jason Mewes, who plays Jay, as the stoner pair. Jay acts primarily as the mouthpiece, while Bob plays it straight in silence like the magician duo, Penn & Teller. When Bob does speak, it's to implicitly spell out something Jay couldn't get or offers something profound.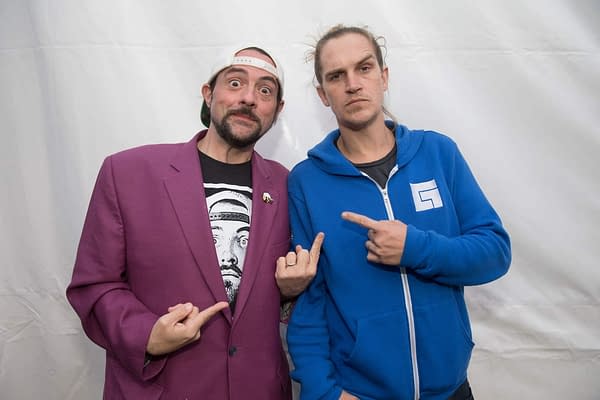 Smith cast a number of his favorites from his past films including Shannon Elizabeth, Jason Lee, Brian O'Halloran and Diedrich Bader. Additions include Joe Manganiello, who shares Smith's love for Dungeons and Dragons as seen in a recent episode of The Big Bang Theory; Justin Long; Craig Robinson; and Molly Shannon.
Among Smith's exploits behind the scenes includes revisiting familiar landmarks from his previous films in the Askewniverse like from Clerks, Mallrats, Chasing Amy, Dogma, and Jay and Silent Bob Strike Back. It's not known if he plans to continue documenting the creative process in post-production.
The film is expected to possibly release in 2019.