'Deadwood': Dispatches From The Thoroughfare, Wu [Keone Young] Edition
Another day, another entry in the live-from-HBO's-Deadwood-movie set courtesy of one Mr. W. Earl Brown (aka Dan Dority).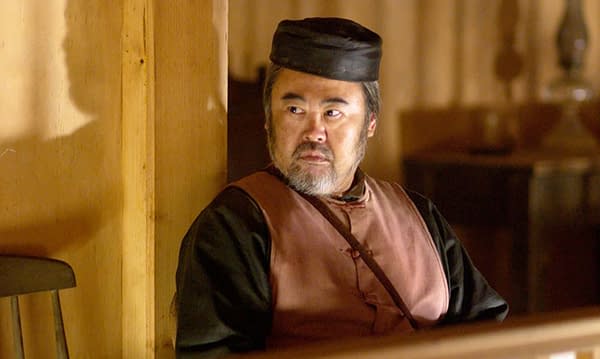 This time, fellow Deadwood alum Keone Young (Mr. Wu) shares his experiences from the set of the feature film, but via Brown's Instagram post:
DISPATCHES FROM THE THOROUGHFARE: WU EDITION

By Keone Young

There are times in life when we need to be reminded that there is much goodness in this world. Now when all we hear is abuse, hate, and fraudulence led by a misogynistic racist tyrant. But we need to be prodded to recall the good things in life and the good things we can see in our future. Sometimes it just happens.

It happened to me the other night on the set of Deadwood. The guys all brought their guitars and fiddles and we played music and sang George Jones, Carter Family, Merle Haggard, Gospel hymns, and such. I even got to sing a Hawaiian Cowboy song with W Earl Brown, Sean Bridgers, Calamity Jane, Swedgin', Brent Sexton, John Hawkes, etc etc. Earl brought a young man with him who I never met before. His voice was so sweet and his personal songs were like magic.

It tore at my heart remembering loss and gains. Loves and hurt. His name is Jason Isbell.

Little did I know he is a 4 time Grammy award winner and has had several #1albums. I hate commercial radio. This man should be played 5 or 6 times a day on it at the least. He has sung on the film a Star is Born and has a regular show at the Ryman Auditorium in Nashville. He is a brilliant young man and I am so grateful to have met Mr Isbell and become friends. Try to listen to his music. It is like fine wine.
Deadwood doesn't have an official release date yet, but production is underway currently. We'll keep you updated as additional Dispatches come to us from the Thoroughfare.