Less Action, More Fear – Recapping This Week's Arrow: The Climb
By Rich Epstein
The Winter Finale of Arrow begins with a shot of Oliver Queen (Stephen Amell), well, climing. It's a quick shot, and the climb will continue each time the show returns from commercial.
Oliver is jumped by the League of Assassins. They take him prisoner and bring him to Nyssa al Ghul (Katrina Law) who delivers the message; he has forty-eight hours to deliver Sara's killer or the citizens of Starling City will suffer. And to help her deliver the message is Maseo Yamashiro (Karl Yune), apparently now working for Ra's al Ghul (Matt Noble) rather than Amanda Palmer.
Laurel Lance (Katie Cassidy) and Thea Queen (Willa Holland) have a conversation over Sara's grave. Thea didn't know that Sara was dead (or so she claims).
Flashback…Oliver's been "interrogating" someone. Maseo helps him deal with it.
Felicity (Emily Bett Rickards) gets some help from Caitlin in Central City in analyzing the DNA from the arrows that killed Sara. There's a match….Oliver. Nobody actually believes this for a second, right? At this point I'm guessing Thea. She's his half-sister, so there will be some DNA similarity. She has reason to kill Sara in order to protect her father. Lastly, remember when Oliver was interrogating Malcolm Merlyn (John Barrowman)? Merlyn swore on the life of his daughter that he didn't kill Sara. That's why he swore on her life, she did it. The only problem is that the police should have Thea's DNA as well; she was arrested in Season 1 for driving under the influence of vertigo. Maybe she stole the arrows from the Arrowcave and that's why Oliver's sweat was on them? Oliver assumes Malcolm is setting him up, but they don't have time to prove it.
Time for a Lance family reunion. Dinah (Alex Kingston) is in town to visit, and she and Laurel happen to visit Quentin (Paul Blackstone) at the precinct at the same time. If only Sara was there. Dinah asks where Sara is, and Laurel lies. Poorly.
The Arrow-team find footage of Merlyn arriving in Starling City the day before Sara was killed. Oliver gets a shock when getting off the plane right behind him is Thea. Really looking like I was right. Diggle thinks so at least. So do Roy Harper (Colton Haynes) and Felicity.
Ray Palmer (Brandon Routh) takes this moment to apologize to Felicity. He tells her of his former fiancée, who was killed last year during the attack by the mirakuru soldiers. Cool, we just got a bonus superhero origin story.
Oliver needs to talk to Thea. She admits to talking to Merlyn, but lies to Oliver about returning to Starling City with Malcolm.
Ra's al Ghul trains against many men, killing them all. He tells Nyssa and Maseo to return to Starling City and be brutal. Is that really something you need to say to the League of Assassins? Especially after they watch you slaughter a group of men?
Felicity and Diggle convince Oliver to talk to Thea again, this time as the Arrow. He breaks in through the window and begins to question her. Thea fights him off enough to escape. I really liked this scene, very reminiscent of the Season 1 episode where Oliver, as the Arrow, talks to his mother. The difference is, after everything that Thea has seen and everything that has happened to her family, she is making sure that she won't be as helpless as Moira was.
Malcolm is a little pissed off that the Arrow paid Thea a visit, so he goes to talk to Oliver. He texts Oliver a video of Thea shooting Sara, and claims that he drugged her and hypnotized her into doing it. His plan is for Oliver to confess to Ra's al Ghul and demand trial by combat. If Oliver wins and kills Ra's, Merlyn's blood debt (and Thea's) will be erased. I am actually surprised by how evil Merlyn is. I actually thought that he cared for Thea, what with heading back to Starling City to save her and all.
Flashback…Oliver can't get the information he needs through torture, and Maseo figures out that he must have been drugged (with the same drug Merlyn used on Thea). But, now that they have China White's (Kelly Hu) inside man, she wants him back. So she pays a visit to Maseo's house and talks to Tatsu (Rila Fukushima). With swords. It does not appear to be going well for Tatsu.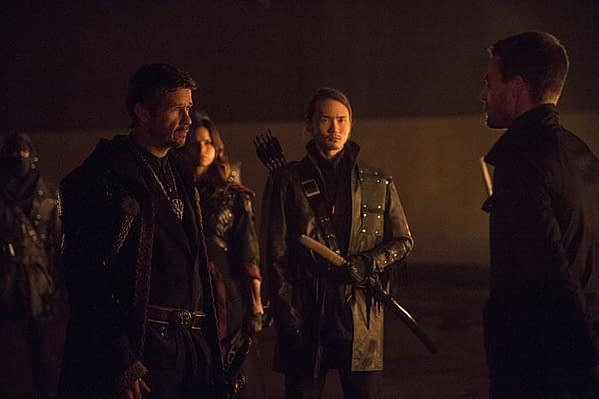 Oliver goes to speak to Ra's, who tells him that he is "just a boy". Oliver confesses, claims that Sara begged him to kill her, choosing death rather than life in the league. He demands trial by combat. Ra's tells him that it is the first time in sixty-seven years that someone has challenged him and accepts. Maseo tells Oliver he has 12 hours to settle his affairs and gives him the location of the mountain that Oliver will need to climb to make the challenge.
Laurel takes her mom to Sara's grave and promises to make Sara's killer pay. Dinah is all for it, telling her to make the killer suffer.
Oliver tries to warn Thea about Merlyn. She asks him not to make her choose between her dad and her brother, and he tells her he would never do that. This is a rare Oliver/Thea scene that works. They show affection for each other and speak honestly. One of the problems that Stephen Amell and Willa Holland have during their scenes, I think, is that they are playing people that have their guard up every time they speak. There are so many secrets that they are protecting that it gets in the way of the emotion. Not here.
Flashback…Maseo returns home to find his son, who tells them that China White took Tatsu.
Felicity realizes that Ray has been keeping something from her about Queen Consolidated and confronts him. He offers to show her what he is doing, and displays the A.T.O.M. exosuit plans. He tells her he wants to use the suit to protect the people of Starling City and asks her to help. Rough life Felicity has right now, torn between two good looking, millionaire heroes, both of whom want her help and more.
Oliver says his goodbyes, and Diggle promises to look after Thea. Felicity knows that he won't stay, so she asks him to do something else…kill Ra's al Ghul. She is afraid that Oliver won't do it, that Ra's will be able to use Oliver's humanity against him. He promises her that he will do whatever it will take to save Thea and tells Felicity that he loves her.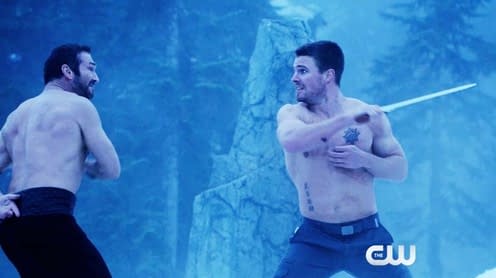 Olvier finishes his climb to the fight site. Nyssa and Maseo are there. Despite the snow-covered mountain, Oliver is told the fight is done without shirts. Um, ok. Ra's tells a long story about the first time he killed a man. Nyssa tells Oliver that she is envious, he will see Sara before she does. Ra's goes into the fight unarmed, promising to take one of Oliver's blades, which takes twenty seconds or so. They fight, and Oliver is clearly overmatched. Ra's toys with him for awhile, before stabbing him through the chest. He says a prayer over Oliver, who sees his life, and the important people in it passing before his eyes. Ra's kicks him off the side of the mountain.
Wow, that was an ending. I like how they did the end fight. There was no sense at all that they were fighting as equals. Ra's al Ghul is clearly on another level. Oliver's humanity didn't get him killed, like Felicity feared. The fact that Oliver knew what he was fighting for didn't save him. There were no gimmicks, Oliver is just not as good of a fighter as Ra's al Ghul.
I really enjoyed the episode. It had a lot less action than Arrow typically does, but it worked. Even the scenes with Laurel and Thea were bearable. The tension was high throughout the episode, and the scene where Oliver says his goodbyes packed a real emotional punch. Stephen Amell is usually at his best when Oliver is angry or focused. Here, he did a great job displaying the combination of fear and resolve. Usually, things happen too fast for Oliver to really be afraid. Here, he has thirteen hours to dwell on the fact that he is having a duel with a man he can't possibly beat.
What now? Lazarus pit? Who finds Oliver? I couldn't tell from the short clip in the preview for the next episode. Merlyn's plan didn't work, he's still a marked man. What's going to happen when Laurel finds out that Thea killed Sara? Or when she finds out that Merlyn put it in motion, and Oliver let him go? Why do we have to wait over a month for another episode?
Rich Epstein writes for Bleeding Cool. He can be found on twitter at @kaspe_r11.
---
---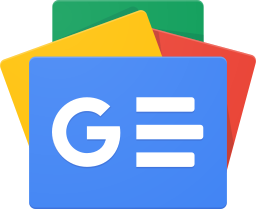 Stay up-to-date and support the site by following Bleeding Cool on Google News today!