McDonalds Promises More Szechuan Sauce After Intentional Scarcity Backfires
McDonalds tried to capitalize on the cult craze for its long-defunct Szechuan Sauce by producing and releasing limited quantities of the sought-after sauce this weekend, only to have the whole thing blow up in their faces as thousands of distraught Rick and Morty fans were unable to obtain the coveted condiment. In at least one location, thieves reportedly jumped the counter and stole the sauce after McDonalds attempted to use a lottery system to distribute the few available portions. Long lines and hungry, unruly crowds plagued the fast food chain's restaurants all across the country.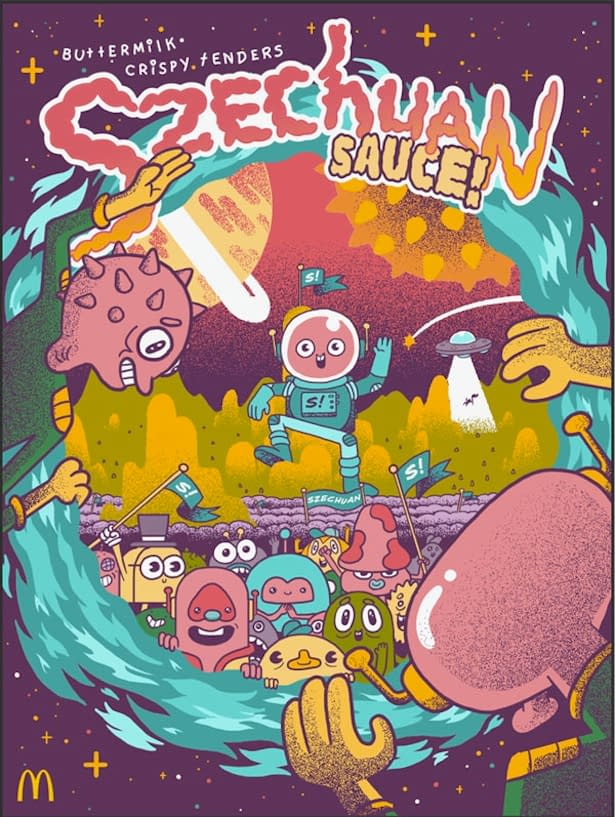 Well, McDonalds is sorry about all that. And to make it up to you, they're going to actually produce regular quantities of the sauce and make it available to everyone this Winter. The company issued an apology in a public statement:
To our customers and Szechuan Sauce lovers,

Yesterday, we were truly humbled by the amazing curiosity, passion, and energy this community showed to welcome back Szechuan Sauce – even just for one day. Thank you, a million times over.

Between the costumes, the memes and the cross-state travel, you, the fans showed us what you got. And our super-limited batch, though well-intentioned, clearly wasn't enough to meet that demand.

'Not Cool'

We agree. So, we're gonna make this right. In the last 24 hours, we've worked to open any portal necessary. And it worked. Szechuan Sauce is coming back once again this winter. And instead of being one-day-only and limited to select restaurants, we're bringing more – a lot more – so that any fan who's willing to do whatever it takes for Szechuan Sauce will only have to ask for it at a nearby McDonald's.

We want to make this right. You're some of the best fans in this, or any, dimension… and we plan to deliver on that promise as soon as possible. Stay tuned.

-Your friends at McDonald's
If we were really friends, McDonalds, you would have made enough of the sauce for everyone to begin with.