Michael Rooker Quits Twitter, Chris Pratt Tweets the Bible, and Petition to Release the Gunn Cut of Guardians of the Galaxy 3 Hits 175,000 Signatures
With another San Diego Comic-Con in the record books, the biggest entertainment news story to come over the weekend didn't come from the convention. Instead, it happened Thursday when Disney fired James Gunn as director of Guardians of the Galaxy Vol. 3. Gunn, who had already written the script, was set to start filming. However, his second career as a nonstop tweeter about President Donald Trump angered conservatives, who located tweets from Gunn circa 2008-2009 making offensive jokes about pedophilia, rape, 9/11, the Holocaust, and AIDS and used them in an organized campaign to take Gunn down, both in response to his Trump tweets and also seemingly as a sort of revenge for the firing of conservative stars such as Roseanne Barr.
Gunn had previously apologized for his edgelord past after blog posts with similar humor surfaced in 2012, after Disney hired Gunn to make Guardians of the Galaxy. Disney continued to employ Gunn at that time and reaped more than $1.5 billion in box office revenue from Gunn's two Guardians of the Galaxy films. However, bowing to pressure Thursday, Disney severed ties with Gunn, with Disney Studios CEO Alan Horn saying, "The offensive attitudes and statements discovered on James' Twitter feed are indefensible and inconsistent with our studio's values, and we have severed our business relationship with him."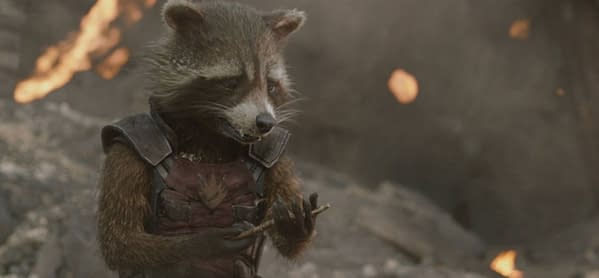 Following the firing, however, a new movement arose, taking its cues from the Snyderbronies, a group of hardcore fans of director Zack Snyder's DCEU who have been clamoring for Warner Bros to release a cut of Justice League which reflects Zack Snyder's Vision, dubbed The Snyder Cut. Like the Snyderbronies, Gunnbronies have used social media to demand that Disney rehire Gunn, responding to unrelated tweets on Marvel's social media accounts over the weekend with the message. They've also started a petition demanding the same, which has garnered over 175,000 signatures at the time of this writing since launching on Saturday.
Several celebrities, most friends or colleagues of Gunn's, have joined the ranks of Gunnbronies, issuing statements of support. The latest includes Guardians of the Galaxy star Chris Pratt, who tweeted a Bible verse that appears to be connected to Gunn's firing.
Pratt's tweet references a verse from The Epistle of James, one of 21 epistles in the New Testament, a cut of the Bible popular with Jesusbronies. In addition, Guardians of the Galaxy star Michael Rooker announced that he's quitting Twitter in response to the role the social media service played in the campaign to get Gunn fired:
https://twitter.com/RookerOnline/status/1021118071803695104
Rooker's Twitter bio now reads "Michael Rooker has left Twitter and will not return," and features a photo of Rooker standing next to Gunn. Fans are encouraged to follow Rooker's website, Instagram, or Facebook instead:
https://twitter.com/RookerOnline/status/1021118734877020160
Other stars who have defended Gunn include 5-time World Wrestling Champion and Guardians of the Galaxy star Dave Bautista, who called the firing of Gunn "a #cybernazi attack that succeeded."
Bautista also tweeted support for fellow Guardians star Zoe Saldana and Guardians star and former Uncanny X-Men writer Karen Gillan, who both said they will wait before speaking on the firing.
"The Animal" also complimented Pratt's tweet:
Gunn's brother Sean Gunn also posted a statement of support for his brother:
As did actress Selma Blair, who called Gunn "one of the good ones" and had previously credited him with encouraging her to come forward as part of the #MeToo movement.
Director Joe Carnahan also tweeted support for the petition to reinstate Gunn:
Despite the growing support from Gunnbronies, neither Disney nor Gunn have commented on the firing since their initial statements on Thursday.