Miss Sloane Review: Finally, A Gripping Political Drama
[rwp-review-recap id="0"]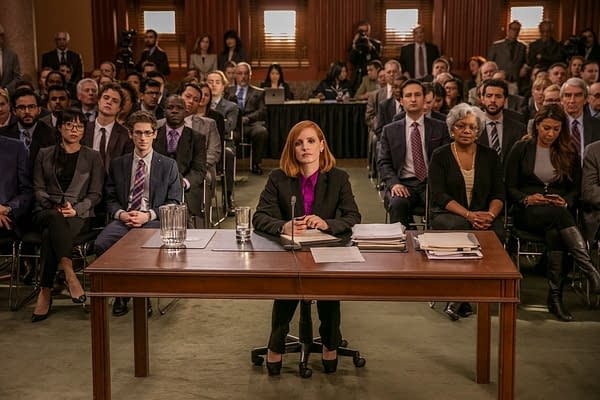 Not everyone is into political dramas, especially ones that have to do with the intricacies of policymaking and back-hallway deal making. Personally, I'm a fan of well made and fast paced political dramas, so this one, directed by Shakespeare in Love's John Madden (no, not the football guy), and written by first timer Jonathan Perera (seriously, the fellow was a Corporate Lawyer working in South Korea as a teacher who decided wouldn't it be fun to write a script) already had a certain mystique appeal. I'm thrilled to say that Miss Sloane entirely lived up to the expectations. Elizabeth Sloane, played to a T by Jessica Chastian, is a tough as nails lobbyist who is sitting before a congressional hearing to answer questions about possible ethics violations conducted by her.
Contemporary political films typically focus on some key area of the government (like the CIA, FBI, or the White House); to have a film focus primarily on a sharp as nails lobbyist is a near unique angle to come at the genre with. Sloane is working at a lobbying firm that is approached by a gunmaker to try to make guns more attractive to women, and to rally support against a bill requiring additional background checks for gun purchases. She refuses and winds up leaving her firm and taking her team with her to a nonprofit firm who is acting in support of the bill. From there the tension increases – her old firm working against her, and her playing the chess game with the best of them.
Sloane isn't a white knight character; she might be working for gun control, but she's as much moved by her own personal code of action than by worrying about pesky regulations, laws, or ethics. She takes pills to keep herself pushing through the long days, she buys sex rather than deal with the time consumption of a relationship (it's not expressly stated, but she might also not do relationships because of the possible secrets that she might divulge). To her, her career is everything.
The dialogue is sharp and often rapid-fire. It's not Aaron Sorkin's level of writing, but it's shockingly close, especially given that it's Perera's first time out of the gate as a writer. At two hours, ten minutes, it might have done well to have another pass through the editing bay to trim off some of the secondary scenes and story threads, but it's not dull by any stretch – but it might have kept the focus on the main arc and thus the suspense would have been greater. Even so, it's a satisfying ride, and Chastain's performance alone is worth the price of admission.
If you're a fan of West Wing, Charlie Wilson's War, or House of Cards, definitely give Miss Sloane a try.
[rwp-review-ratings id="0"]
[rwp-review-form id="0"]