"Dune" Casting of Feyd Harkonnen Spotted on IMDb, then Vanishes
As the cast continues to fill out for the 2020 reboot of Frank Herbert's Dune, one of the sharp-eyed readers of DuneFan2020 twitter account noticed that none other than Ready Player One star Tye Sherian had appeared credited to play the part of Feyd Rautha Harkonnen. Fans of the 1984 David Lynch version of the film will remember that it was singer-turned-actor Sting who originally played the part.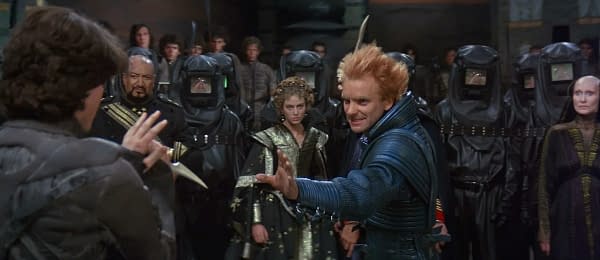 Now, shortly thereafter the IMDb listing was updated, but without Tye's entry being included, and with no listing for Feyd. This may mean that it genuinely was just added in error, but typing out Feyd's name, and picking an actor to go with it takes some effort. We haven't yet seen Dune's IMDb listings being intentionally messed with, however it's also always a possibility.
https://twitter.com/DUNEFAN2020/status/1136412437983498240
If it turns out to be true, what do you think of Tye wearing the original winged speedos for the knife fight? Would he be a good selection, or is there someone better to step into the ring against Paul?
Two-time Oscar nominee Timothée Chalamet will star as Paul Atreides, Rebecca Ferguson as Lady Jessica Atreides, Oscar Isaac as Duke Leto Atreides, Josh Brolinas Gurney Halleck, Stellan Skarsgård as Baron Harkonnen, Zendeya as Chani, Jason Momoa as Duncan Idaho, Javier Bardem as Stilgar, Charlotte Rampling as Reverend Mother Gaius Helen Mohiam, David Dastmcalchian as Piter De Vries, Chang Chen as Dr. Yueh, and Dave Bautista as The Beast Raban Harkonnen.
Dune is set to hit theaters on November 20th, 2020.
Shai Hulud.