'Rocketman' Soars With Warts and All Elton John Story [Review]
After 2018's biopic Bohemian Rhapsody about Queen frontman Freddie Mercury, it seems that it's time for retrospectives looking into the lives and careers of some of the late 20th-century musical icons. Where Rhapsody was a super-sanitized and wildly fictionalized account of Mercury's career, Rocketman, starring Taron Egerton as the similarly unique Elton John, is a fantasy-laced full-bore musical that carries far more truth and energy than it's predecessor.
[rwp_box_recap id="0"]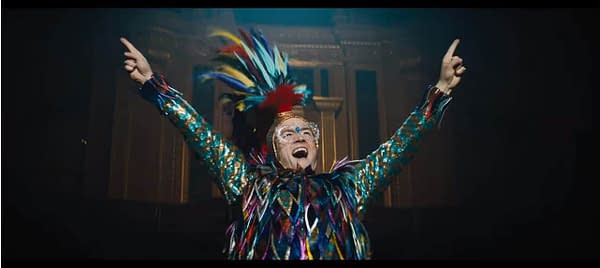 To be clear, Rocketman is a musical. In the midst of a scene of Elton in a full concert costume, he is addressing a rehab support group and his childhood self walks in and begins to pick up the underlying message of his life (using one of his songs as the basis), and it bursts into a full flashback sequence with full dance company on his childhood street. It uses a frame device of Elton talking though his life and his myriad additions and sins to the group, segueing into various scenes.
While this film is indeed well landed into a fever-dream type of fantasy world, the messages it's expressing doesn't shy away from the evils of the world. Be it from an agent / lover (played by Game of Thrones' Richard Madden) who makes no bones about the fact that he really couldn't care less if Elton lives or dies from drugs or the alcohol, he'll still be making his percentage, or from himself when he turns on BFF and songwriter extraordinaire, Bernie Taupin (played by Jamie Bell).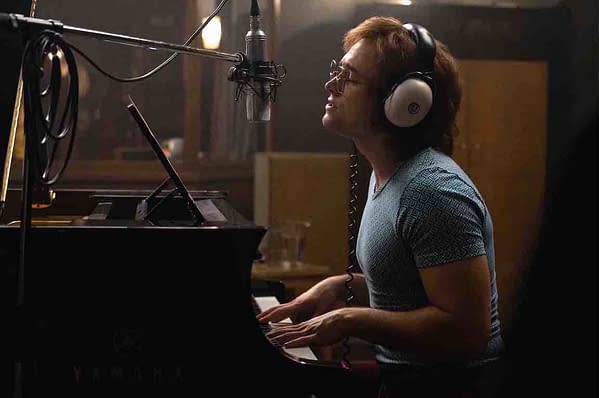 Egerton has an energy about him and his ability to do a more than solid turn on stage singing as Elton that keeps the film hopping. As with Elton's music, it's the kind of earworms that get into your head and stay with you to the point that you'll likely queue some up on iTunes as soon as you get to the car.
Rocketman is a solid, entertaining look at a performer that has endured for decades. It's also a better musical than La La Land.