Mondo Music Release of the Week: First Man!
Mondo releases new vinyl special editions every single Wednesday. They are they ultimate edition of whatever they put out, featuring extensive liner notes, brand-new commissioned artwork, and always have a limited-edition size. The vinyl itself is usually colored or a photo disc, as well. Basically, it's like the Criterion Collection of movie and gaming soundtracks. This week sees the release of the soundtrack to the new Damien Chazelle film First Man!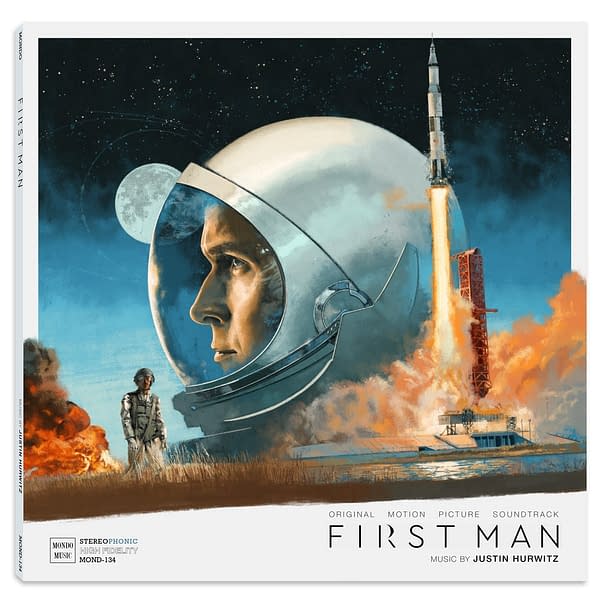 Mondo, in partnership with Back Lot Music, is proud to present the original motion picture soundtrack to Damien Chazelle's film FIRST MAN on vinyl. The soundtrack features new music from two-time Academy Award®-winner Justin Hurwitz, as well as a recording of Leon Bridges performing "Whitey on the Moon," in character as Gil Scott Heron.

On the heels of their six-time Academy Award®-winning smash, LA LA LAND, Oscar®-winning director Damien Chazelle and star Ryan Gosling re-team for FIRST MAN – the riveting story behind the first manned-mission to the moon, focusing on Neil Armstrong and the decade leading up to the historic Apollo 11 flight. It's visceral and intimate account told from Armstrong's perspective, based on the book by James R. Hansen. The film explores the triumphs and the cost on Armstrong, his family, his colleagues and the nation itself of one of the most dangerous missions in history.

The film's harmonious score features orchestra mixed with vintage electronics, including the Theremin. Regarding that choice of instrumentation, Hurwitz said, "As soon as I found the main theme at the piano, Damien suggested using a Theremin to express that melody throughout the movie. I got one and started learning to play it and loved how emotional and expressive the instrument could be. With its wailing quality, we were able to capture the type of cosmic pain that suited Neil's story."
Featuring original front cover illustration by Marc Aspinall and pressed on 180 Gram Lunar Surface Grey vinyl. Also available on 180 Gram Black vinyl
Like all Mondo releases, this will go up at Noon Central on the Mondo site today.