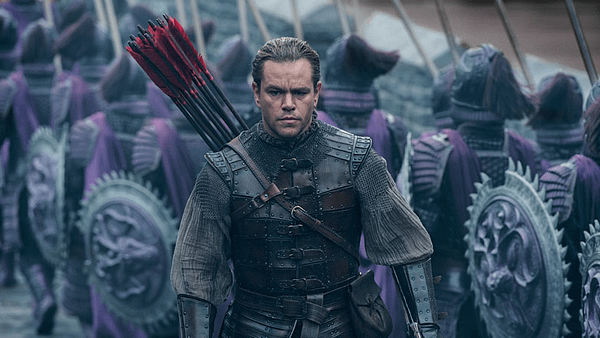 By John Odum…
It was a packed house at Madison Square Garden for the NYCC preview panel for Director Zhang Yimou's (Raise the Red Lantern, Hero) "The Great Wall" slated for a February 17 release date in the US and February 24 in the UK. Moderator Dave Carter introduced birthday boy Matt Damon (in his first New York Comic Con appearance) and led the audience in a round of Happy Birthday.
Damon spoke briefly about his enthusiasm for the project, noting that Yimou had tapped his experience as an Oscar-winning screenwriter for input on character dialogue, before co-star Jing Tian (Police Story: Lockdown) was introduced. Tian shared her own excitement about playing an "incredibly powerful female character," praising the film's representation of equality between genders in leadership roles and implying it could serve as a model for other films.
When Pedro Pascal (Game of Thrones) was introduced, he wasted no time recounting his longtime admiration of Director Yimou's work (a sentiment echoed repeatedly by panelists).
Despite the Hollywood starpower, it was the film debut of boy band TFboys singer Wang Junkai that was clearly the draw for much of the crowd, as his introduction was met with extended enthusiastic screams. Through a translator, Junkai indictated this was his first time in New York, adding that "working on an international blockbuster is extravagant, it's awesome."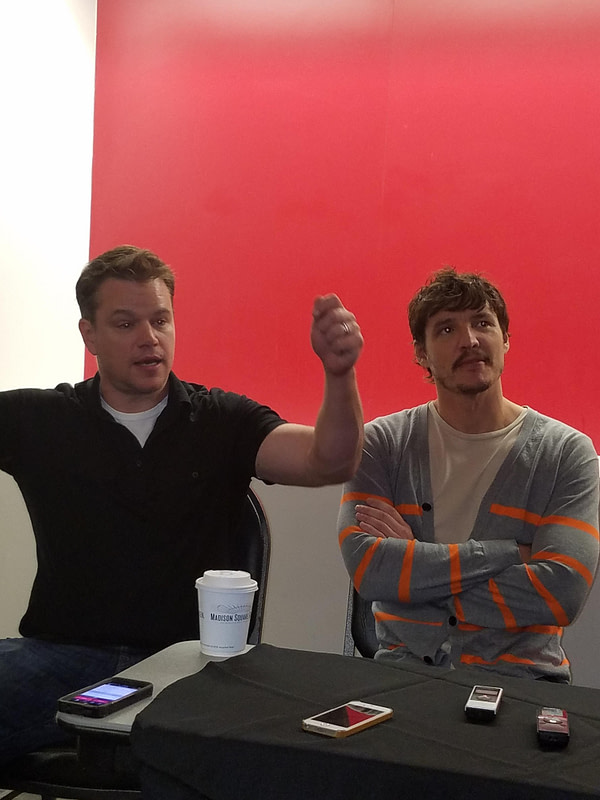 Finally, Yimou was introduced with a highlight reel reviewing his filmmaking repertoire. In perhaps a subtle nod to charges of "whitewashing" (or more accurately, the charge that Damon's starring role perpetuates the "white savior/mighty whitey" trope), Yimou offered through a translator that Great Wall was "made for the world audience."
After to some Donald Trump bashing from Damon (met with great applause), a new trailer for the film was screened for the room. The trailer gave more hints to the plot, showing Damon and Pascal's characters as a pair of western rogues who stumble into an epic scaled battle against man-eating monster hordes before joining the battle. As has been demonstrated with stories and films set in ancient Egypt, the appeal of blending pure fantasy with the fantastic elements of ancient cultures (such as the Pyramids and the Great Wall) into an epic fantasy gestalt has strong appeal, and the look and feel of the new trailer (with its signature Yimou visuals) was certainly thrilling.
In a post-panel press conference, a lot of talk about the cross-cultural challenges and the communication (that sound like they weren't challenges really)Yimou indicated that "Chinese audiences really looking forward to this movie", which represents the "biggest (Chinese/American cinematic) collaboration ever….set(ting) a milestone" and includes monsters from Chinese fairy tales that even predate the more commonly recognized dragon folklore.
"If this movie succeeds, it's going to benefit the Chinese and American film business," he added.
At the end of the presser, the whitewashing/white savior charges were broached. Damon had clearly anticipated the question, refer to the charge as a "bummer."
Damon, self-identifying as a progressive, indicated the controversy had caught him off-guard, particularly when it escalated to media sources he frequented, such as The Atlantic. The accusation, to Damon, was based only on the misreading of the teaser trailer.
Despite the negative publicity, Damon, repeatedly echoed by Pascal, said that whitewashing was a real issue, adding (with a pronounced humility) that he "will listen with his whole heart" to such cross-cultural concerns, but trusted that the charges would prove unfounded by the final product.