Netflix Releases 'The Wandering Earth' Without Announcement or Fanfare
Netflix has released Chinese Science Fiction blockbuster The Wandering Earth on their streaming service without any announcement. The movie wasn't listed on any official lists of new shows and movies that were coming to the service in May.
In case you forgot, The Wandering Earth is adapted from Liu Cixin's novella set in the near-future where the sun starts to die out and the Earth's governments unite to move the whole planet to another solar system so it wouldn't be burned to ash when the sun goes supernova. Years into its journey, a malfunction in the Earth's engines traps the planet in Jupiter's gravitational well and the emergency and rescue teams around the planet have to figure out how to move the Earth away before it splatters like a fly on a bug-zapper against Jupiter's surface.
The movie is the biggest hit in China this year, earning over $700 million at the Chinese box office. It was released in 22 cities in the US and was even written about in the media as China's first major Science Fiction movie this century. However, it was not advertised anywhere so not many Americans knew it existed let alone played at AMC cinemas back in February. It earned over $2 million at the US box office, but the majority of the people who saw it in the US were Chinese citizens in the US who knew about the movie through Chinese social media and friends and family back home telling them about it.
By mid-February, Variety announced that Netflix had acquired the global streaming rights for The Wandering Earth outside China. Jerry Zhang, the manager of content acquisition at Netflix, said, "Netflix is committed to providing entertainment lovers with access to a wide variety of global content. With its high-quality production and story-telling, we believe that 'The Wandering Earth' will be loved by sci-fi fans around the world."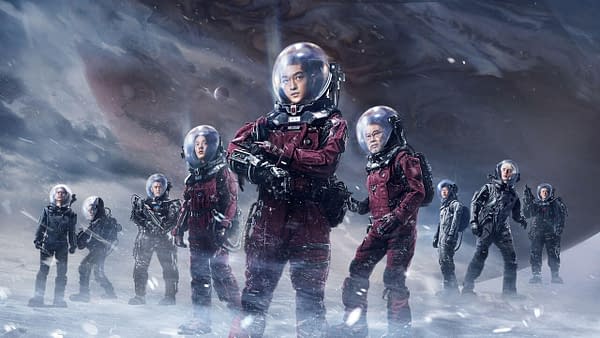 Netflix also said, "The movie is a majestic feast for the eyes with massive production scale rarely seen in Mandarin films. Its post-production and special effects work spanned two years, undergoing more than 3,000 conceptual designs, and featuring over 10,000 specifically built props, while employing an impressive 2,000 special effects shots and a substantial amount of computer graphics shots."
And yet since February, Netflix never announced a date for when The Wandering Earth would be released on the service. It has not been on the list of titles due for release in May. As of this weekend, the movie is up for everyone to see. It's not on the "New Releases" or "Netflix Originals" section. It's on the "Recently Added" list when you scroll down.
It seems a bit odd that after the brouhaha of announcing they picked it up, Netflix didn't bother to let anyone know the movie was up for streaming. You only find it if you search for it. They didn't even pay for a new set of English subtitles, sticking with the original set from the theatrical release, which were written by non-native English speakers.
The movie is as good (or as bad, if you feel that way) as recent Hollywood CGI-ridden blockbusters like 2012 or San Andreas but is significant from a geopolitical and cultural point of view. Like it or not, you can gleam a lot of what's on China's mind when you see it, and for that it's worth a look.
The Wandering Earth is currently available to view on Netflix.