A New Cartoon Ghostbusters Film Is Reportedly On The Way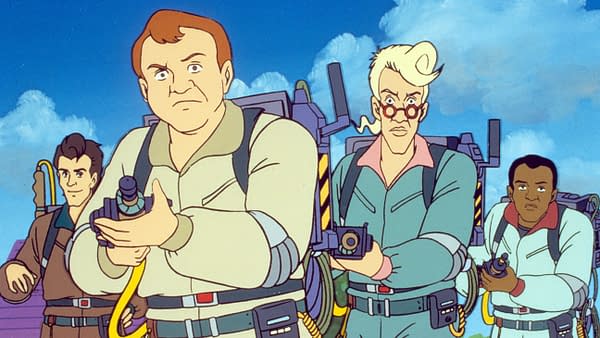 In the slew of news coming out of San Diego Comic Con today, Ghostbusters director Ivan Reitman let news slip about a new Ghostbusters animated film. This was in the midst of the comic and toy news about the beloved franchise, and IDW Publishing posted it to Twitter for all to see.
As you can see, there is also talk of a second film that will "explore the ghost world from the ghosts' perspective." Will that be an animated film as well or a full-on live action feature? The announcement was vague so it may be a while before we have those answers.
Given that Ghostbusters 2016 received an underwhelming reception at the box office it seems unlikely that they would try to push out another big expensive blockbuster this soon, even with a franchise as bankable as Ghostbusters. Furthermore, the idea of a Ghostbusters flick that explores the world of the ghosts themselves seems like a premise that would be a better fit for an ancillary animated release geared more towards the die-hard fans of the franchise.
That being said – who knows? Maybe there will be another big Ghostbusters flick just over the horizon. Reitman himself spoke about all of this, and that has implications all of its own.
With the paired comic announcement, there seems to be a concerted effort to keep this franchise viable. Which is understandable; Ghostbusters has a sizeable fanbase and has made a lot of money in the past through two high-grossing films and a well-loved animated series. It seems that Ghostbusters will be around for a while yet and that's something to be happy about. There are a lot of interesting ideas in this franchise, and its insistence on keeping a light and comedic tone separates it from similar more horror-centric attempts at similar ideas.
We'll keep you posted as we learn more. In the meantime, take heart in the news that a new animated flick is on the way.