Halloween 5 Fans: You Can Watch The Film Where It Was Filmed
On Set Cinema is hosting a screening of Halloween 5: The Revenge Of Michael Myers where it was filmed in Salt Lake City in August.
---
Halloween 5: The Revenge of Michael Myers is…well, it is not very good really, and maybe the weakest entry in the series. Sure, there are some bright spots. Danielle Harris is great, and Donald Pleasence is his usual manic tornado of awesome. And the Myers mask is okay! That's all I got. It is a fun film to watch with a group, though, and in August, fans can watch the movie where it was filmed in Salt Lake City, Utah, thanks to On Set Cinema. Fans will get to tour the house used as the Myers house in the film. Trick or Treat candy will be handed out, tours of the grounds, and a special outdoor screening will take place, and then a few lucky people will get to spend the night in the house itself. Below are some more details, and you can purchase tickets right here.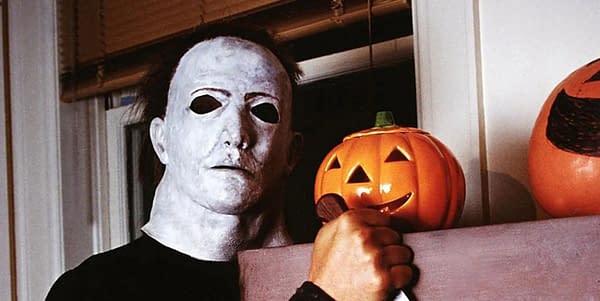 Halloween 5 Outdoor Screening? I Wish I Lived Close
[Editor's Note: I do, Jeremy, come visit!]
Join ON SET CINEMA on Friday, August 25th, in Haddonfield (aka Salt Lake City) for a very special screening of Halloween 5: The Revenge of Michael Myers at The Myers House! For the first time ever, fans have the opportunity to check out the historic Victorian home that was used as the actual filming location for The Myers House in HALLOWEEN 5! This is the location where Dr. Loomis (Donald Pleasence) and Jamie Lloyd (Danielle Harris) face-off with Michael Myers during the movie's climatic ending!
Fans will get a complete guided tour of the property grounds, as well as a look inside the house – you'll be able to see where Loomis confronts Michael Myers on the staircase and gets slashed, stand exactly where Loomis uses Jamie as bait and traps Michael in the chain net, stare up at the turret where Michael hangs Deputy Charlie from the window and MORE! There will be Halloween music playing, trick-or-treat candy, the property/house tour, and an outdoor screening of "Halloween 5" in the front yard! The property is small so tickets to this event are VERY LIMITED. Don't miss out!…and if that's not enough for you, 7 fans have the incredible opportunity to spend the night inside the house for the ultimate experience! There will be pizza, drinks, board games, and of course a HORRORTHON with more movies playing late into the night! Everyone staying all night will be provided a twin size air-mattress and we'll all camp out on the first floor of the house in the living room area where Loomis tries to kill Michael in the net.