"Bill & Ted Face the Music": New Image Features Wyld Stallyns Wedding Performers?
One of the most anticipated films of 2020 is Bill & Ted Face the Music. The third film of the Bill & Ted franchise comes 29 years after Bogus Journey (1991). Face the Music finds Bill S. Preston (Alex Winter) and Ted "Theodore" Logan (Keanu Reeves) as fathers still searching for that perfect song.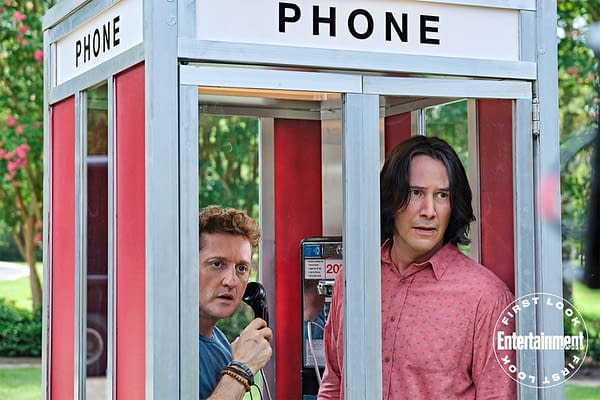 The latest image comes courtesy of Empire. It finds the duo in purple (Ted) and blue (Bill) tuxes with matching black bowties. Both brace for hugs in front of music instruments. Could it be their daughters?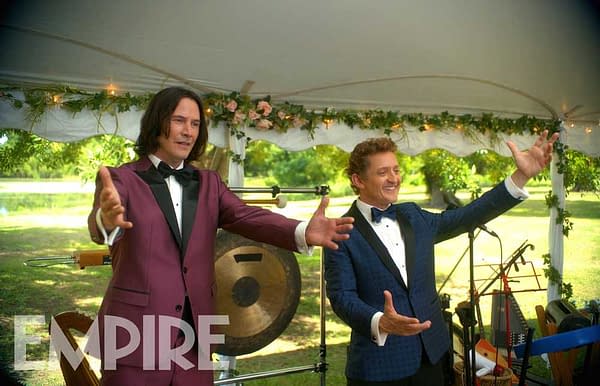 "Bill & Ted" History & Synopsis
The Bill & Ted franchise which includes Excellent Adventure (1989) and Bogus Journey grossed a combined $78 million worldwide at the box office. The films followed the two youth stoners Bill & Ted who are looking for their first big break as musicians but start to doubt themselves in the face of adversity. They stumble upon a time traveler Rufus, played by the late George Carlin, who tell them their deeds helped shape the future.
Excellent Adventure saw the duo recruit a number of historical figures from the likes of Socrates, Joan of Arc, Attila the Hun, Napoleon, Mozart, Billy the Kid, and Abraham Lincoln for their history project. Bogus Journey saw them involved in a conspiracy facing death and repairing their damaged reputation from android lookalikes.
Directed by Dean Parisot (Galaxy Quest) and written by creators Chris Matheson and Ed Solomon for Orion Pictures, the film finds most of the major cast reuniting and brings new faces. Returning are William Sadler, Amy Stoch, and Hal Landon Jr. Joining them are Samara Weaving, Brigette Lundy-Paine, Erinn Hayes, Jayma Mays, Jillian Bell, Anthony Carrigan, Beck Bennett, Kid Cudi, Kristen Schaal, and Holland Taylor.
Parisot spoke to Empire about what the Wyld Stallyns do in Face the Music.
We've gone from a homework assignment to saving all space and time. We bypassed all those possible traumas in the middle. They have an hour and 18 minutes. So they're in trouble. And let's say that they have to travel all over the place to try and figure it out."
With six months remaining until the film's release, it's surprising there's still not at least a teaser. Bill & Ted Face the Music comes to theaters on August 20.