Our Top Five Best On-Screen Santa Claus Picks
The release of Netflix's The Christmas Chronicles has Kurt Russell donning the red suit as Santa Claus, but was he the best one?
Here are my five picks for best Santa Clauses on TV and film, in no particular order: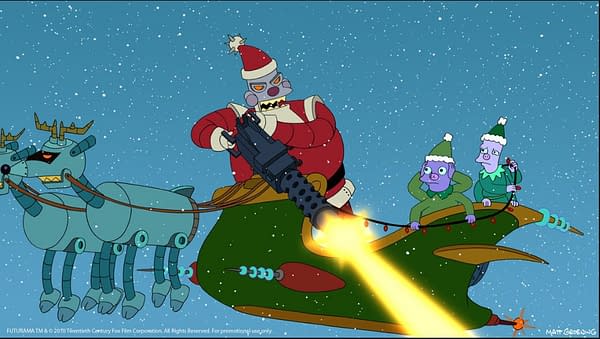 Futurama – Robot Santa Claus
John Goodman plays a memorable role as Robot Santa, because while the principles of deciding who's naughty and who's been nice seems simplistic to the young and imaginative alike, science fiction taught us the idea of how these concepts become twisted to its extremes, especially robots (i.e.: Terminator and 2001: A Space Odyssey).
Goodman's Robot Santa terrorizes the citizens of New New York, who cower in fear and reinforce security within their homes in the hopes his barrage doesn't level them. Instead of a magical sack full of toys, RS opts for militarized weapons from machine guns, lasers and even a rocket launcher since his standards were too high and subsequently, he declared most on the planet as "naughty."
While marveling and cheering at his path of destruction, there is a trace of the old St. Nick in him since only Zoidberg made his nice list with the present he gives him.
Goodman voiced the character in "Xmas Story." John DiMaggio took over the role in "A Tale of Two Santas" and Bender's Big Score. Goodman would play a more benevolent Santa in The Year Without a Santa Claus, Rudolph the Red Nose Reindeer, and It's a Spongebob Christmas!
The Santa Clause – Scott Calvin
Fresh from his popularity on TV's Home Improvement, Tim Allen was a bankable everyman on ABC so naturally, the network's parent company decided to cast him in the 1994 comedy, The Santa Clause.
For a comedy, there are sure some depressing overtones. Allen stars as Scott Calvin, a father who investigates a mysterious figure on his roof, but unfortunately he accidently slips and falls to his death due to Calvin's interference. While trying to assist the fallen stranger, he triggers The Santa Clause, which allows the wearer of the red robes to become the new Santa upon the death of his predecessor.
Yeah, it's pretty morbid premise for a Disney film. Anyway, aside from the depressing opening, we go through the discovery process of how Calvin starts taking on Santa's traditional features like his weight gain, the whitening of his hair with matching beard and "Santa's" magical powers.
We're seeing a man slowly dying piece by piece to get a crash course of being a mystical human cursed to deliver toys all over the world while "deciding" who's been naughty and nice. At least, his kid is along for the ride. He's losing a father, but he's gaining a selfless God, who's only going to be around once a year in his life now.
While Allen's wit and slapstick humor provide some amusing moments that goes in any live action Disney comedy, it does become an enjoyable ride discovering what is life is like as Santa Claus before they end up realizing the morbid and tragic reality of the main character.
Given the success of the film, Disney didn't miss an opportunity to make the film a franchise and create a trilogy.
Bad Santa – Willie
Billy Bob Thornton plays Willie, a drunk, self-destructive and lecherous safecracker and conman who works as a mall Santa annually before pulling off his heist with his dwarf partner, Marcus (Tony Cox). Marcus, the clearer-minded of the two, tries all he can every year to keep Willie propped up while maintaining their cover as Santa and elf, scouting the security system and making a list of items to steal to complement the money in the safe.
A film like this is difficult to pull off given how off-the-wall drunks can be, but one major aspect that makes Bad Santa a true Christmas is the heart and the redemption of Willie. There's no mystical force at work that places a spell on Willie. It's a prepubescent kid (Brett Kelly), who despite getting picked on by bullies on his way to the mall, calls Willie, Santa and still believes in the power of Christmas providing hope in an environment where there is none.
The both develop a dysfunctional father-son relationship even though Willie hides in the kid's home as cover until the heist.
Credit goes to Thornton, director Terry Zwigoff, and writers Glenn Ficarra and John Requa for creating a Christmas film out of one of the most unexpected places, crook and a young social outcast.
Sometimes the only thing a person wants aside from the traditional material items, is camaraderie. I'm not going to speak of the blasphemous sequel. It doesn't exist!
The Miracle on 34th Street – Kris Kringle
This is a bit of a cheat since I'm referring to both the 1947 The Miracle on 34th Street film and the 1994 remake of the same name, starring Edmund Gwenn and Richard Attenborough, respectively. George Seaton directed and provided the screenplay for the 1947 film, while Les Mayfield directed the 1994 films with John Hughes updating Seaton's screenplay.
The film follows the exploits of one Kris Kringle, who gets hired as a department store Santa, replacing his predecessor fired for inebriation. The films demonstrate how Santa Claus would operate in the real world since Kris Kringle is an alternative name for the character.
While most are enamored, there are some who don't believe he's the real Santa at all. Ever the playful and humble figure, Kringle maintains his case when put on trial after being set up by his predecessor. The nuanced and delightful performances by Gween and Attenborough displaying an almost childlike humble innocence shows more the humanity of the character.
The films shows what it means to embody the spirit of Santa Claus and how much a little faith can go a long way. The film defines the character at his purest and original form, not the glitz and glamor associated with the spectacle of the figure. Whichever version you choose, I would recommend both as a grounded more traditional Christmas story.
https://youtu.be/lo5OmGDjZEQ
Fred Claus
It's a hard decision to pick the final one, but in traditional Santa stories where often the main character thrusts into a position of "saving Christmas," this one stands out more mainly, because of how relatable sibling rivalry is.
Fred Claus (Vince Vaughn) is the jaded uninspired loser brother constantly bemoaning about living under the shadow of his brother, Santa (Paul Giamatti). As a figure who's supposed to be the embodiment of patience and stoic wisdom, it's quite refreshing to see the film cast Giamatti, one of the most neurotic and intense actors on screen, cast opposite the stoner-comedic stylings of Vaughn.
As Fred tries to seek purpose in his life, he ends up in jail. While bailing his baby brother out of prison, Santa gets Fred to repay him by serving as an honorary elf.
Speaking of elves, it was hard to decide between this film and the 2003 Will Ferrell comedy Elf, but the films focuses far more on Ferrell's character Buddy, while Ed Asner's Santa doesn't serve the plot as much the Santa in Fred Claus does.
For a few laughs without the raunchy content like Bad Santa. Fred Claus is the next best thing.
Honorable Mentions
Santa Claus: The Movie (1985) – David Huddleston
Ernest Saves Christmas (1988) – Douglas Seale
Did your favorite Claus make the cut? Let us know in the comments.