 Only a fool would describe Skyfall as the best Bond film ever. They're all so different for one thing. How do you compare Tim Dalton's tight-lipped determination to keep 007's elegantly-shod feet on the ground with Roger Moore's predilection for tap-dancing his way into self-parody? How do you measure Sean Connery's smoky, heavy-lidded smoulder against Pierce Brosnan's permanent 'smoke gets in your eyes' squint?
Skyfall is a film that's well aware of its rich and varied history. There are nods to every era of Bond. There's a gadget from the Dalton Years. There's a stunt straight out of the Roger Moore playbook. There's a much-loved prop from the Connery collection. And a major plot point cribbed from one of Brosnan's old scripts. And it starts with a long, breathless, heart-in-mouth chase that owes more than a bit to that exhausting opener from Casino Royale.
Still, somehow director Sam Mendes manages to keep it all fresh. You know I said only a fool would describe Skyfall as the best Bond film ever? Well this is me doing it. Skyfall is the best Bond film ever.
It wins points from me early by dealing with a classic villain trope. You know the way bad guys with machine pistols are always going through bullets the way a kid with an Incredible Hulk colouring book goes through green crayon? And yet they never quite run out? In this, the first adversary that 007 has to deal with has accessorised his gun with one of the most impressively baroque drum magazines you'll ever see. Massive points to the armourer there.
Just as in Casino Royale, the opening sequence shows Bond operating very much as part of a team. But Bond is Bond, so we know all that will change once we've got as far as The Song.
The theme tube, by Adele, works better in context than it did on radio. It doesn't quite scale the heights of the classic Shirley Bassey belters but it's at least in the right post-code.
The story's an original, although it owes a bit to You Only Live Twice (book rather than movie). It owes slightly more to the plot of the first Mission Impossible movie. Also, you know the way that Bond has always dipped into what the young kids are doing like your groovy English teacher used to? The way he went a bit 'outer space' in the Star Wars era or tapped into the Parkour craze? Well there's a healthy dollop of The Dark Knight here. From the oriental cityscape at night to the villain's Jokeresque Russian doll of a scheme.
But for all that, it's still uniquely Bond. Indeed in a way, with all its backreferences and in jokes this is more completely a Bond movie than the first two Daniel Craig outings put together.
It's also a very British movie. I'm not sure if there's ever been a Bond movie that had 007 on home turf for so much of its running time. There are a few exotic locations, but this is very much a Bond that's in touch with its roots.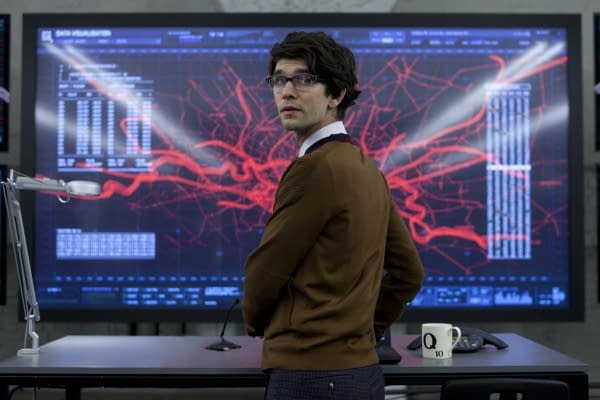 For example, we have a Q again. A young, nerdier than ever Q played by Ben Whishaw. The dialogue between the callow technocrat and the middle-aged bruiser Bond, played out using the semiotics of Turner's The Fighting Temeraire, is a joy.
And we have a more personal villain than of late. Less a front for a shadowy business organisation and more a deadly counterpart to 007. A little bit Scaramanga, a little bit Alex Trevelyan. Javier Bardem exudes ophidian menace and batshit crazy in equal measure. He's a great, scary, unhinged villain that you can't help but slightly like. Much of the plot revolves around hacking computer networks but although there's an awful lot of algorithm gobbledygook only one person says "we're in".
Some of the attention to detail, like having the right numberplate on a certain car, is hugely gratifying. Some of the carelessness with regard to the passage of time, like having night fall suddenly in the middle of a pivotal scene, is just strange.
That pulled me out of the film for a minute, but only a minute. You can't stay rational for long if you're watching this film. This is some brilliant, involving, exhilirating action movie filmmaking. We all expected Mendes would deliver convincing character beats, and he does. For example there's some great flirty byplay with Naomie Harris, playing a field agent who doesn't seem to have a number but is known for most of the film simply as 'Eve'. Perhaps more importantly the real depth of 007's symbiotic relationship with M is exposed. Dame Judi Dench is given more to do here than in all her other Bond outings put together, and my word she does it well.
What one might not expect from the Revolutionary Road, American Beauty guy is explosive, violently choreographed action. I've already touched on the opening chase scene, which is almost worth the price of a ticket on its own. There's also a brutal, balletic smackdown played out almost entirely in silhouette. And a pivotal scene that leaves you in no doubt that Bardem's character is one of the most evil villains Bond's faced since the Sixties. After the film ends there's a title card that says 'James Bond Will Return'. Of course he will. Actors may come and go but Bond is immortal. But if Skyfall were, for some reason, to be the final Bond it wouldn't matter. It's a great big boozy, bruisery 50th Anniversary hug for every one of us that's bought a ticket or fired up the TV to watch the greatest secret agent in the movies. And I loved it.
Enjoyed this article? Share it!