When Star Lord's Mom Met Captain America- James Gunn Says It's Quill's Grandma
The Marvel Cinematic Universe while a large one, is also a small one. Yes, I know that barely makes sense, but I'll explain it, I promise.
You know already I'm sure about the times actors and actresses who've played previous characters within the Marvel Comics world (not necessarily the MCU, but within the Marvel lexicon of characters). Like how Ryan Reynolds previously played not-quite-Deadpool but pretty-much-Deadpool in Wolverine Origins only to come back to the character 13 years later in his own feature film. Or like how Chris Evans previously played Johnny Storm in that Fantastic Four film but later became Captain America.
Which brings us to a nifty piece of Marvel-movie-lore that maybe you didn't know- Star Lord's mom met Captain America during Captain America: The First Avenger.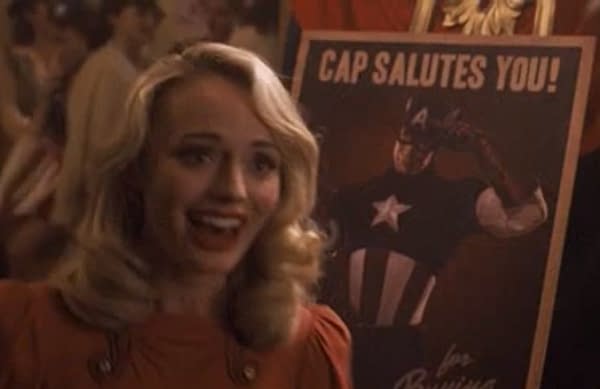 Thanks to the magic of twitter, I was reminded today that actress Laura Haddock (Da Vinci's Demons) who played Star Lord's mom Meredith Quill in Guardians of the Galaxy vol 1 and vol 2 has a brief encounter with the first Avenger, as "Autograph Seeker".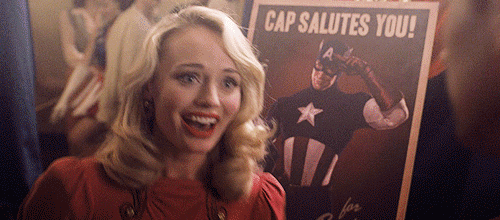 Adam Ellis sent a tweet featuring this screen shot to GotG director and galactic treasure James Gunn, asking if Star Lord's mom has a superpower.
Dear @JamesGunn, does Star-Lord's mom have a super power because this is definitely her meeting Captain America in 1941 pic.twitter.com/DkvS0gHndQ

— Adam Ellis (@GilbyRanger) May 2, 2018
"That's Quill's grandma. I just made this up," Gunn responded.
That's Quill's grandma. I just made this up. https://t.co/yCFm39QjlB

— James Gunn (@JamesGunn) May 2, 2018
While this is in no way a tried and true fact, we kind of hope it becomes one.