Star Wars: Empire Strikes Back 40th Anniversary Posters Available Now
Star Wars: The Empire Strikes Back turns 40 this year, and to help celebrate, artist Matt Ferguson has created new posters for the film. Both feature Darth Vader front and center, surrounded by AT-AT's, and TIE Fighters, and all sorts of things and little hidden gems. The epic showdown in the carbon freezing chamber between Luke and Vader is also depicted. The Empire Strikes Back anniversary poster also comes in a Japanese edition as well. Both are timed editions, so fans do not need to panic. You have until Sunday, June 21st, at 11:59 PM EST to purchase either poster for $65 or a bundle for $125. Check them both out below, and may the Force be with you.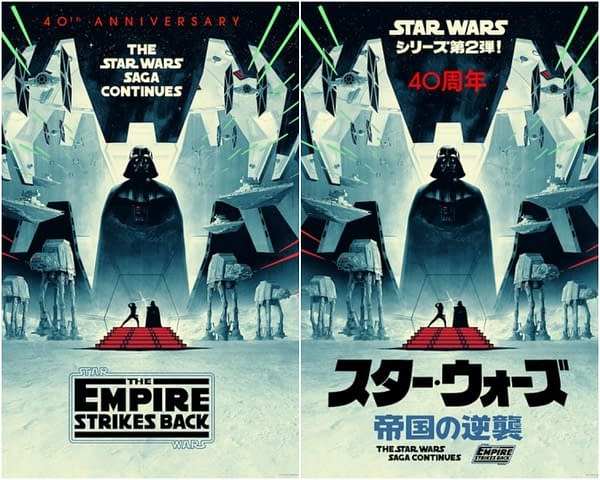 Star Wars: Empire Strikes Back Posters
"This Wednesday, We're celebrating The Empire Strikes Back's 40th anniversary with Matt Ferguson's mind-blowing image that's circulated in all official and fan circles for Star Wars!
Matt Ferguson's officially licensed image for the 40th anniversary of The Empire Strikes Back has floored Star Wars fans since its unveiling earlier in May and designed as an official one-sheet movie poster for the 40th anniversary of our personal favorite Star Wars film. Matt's image is symmetrical Star Wars bliss, taking elements from his previous Star Wars prints to create a truly modern take on a classic movie. Using some of the primary color palettes throughout the film, Matt's image features the continuously looming threat of Darth Vader, as well as a centerpiece featuring Luke's climactic clash! We'd also like to mention that we may be working on bringing Matt's poster to a different medium in the upcoming months, so keep that third eye open for more news!
Matt's print, alongside limited variants, will be available as a timed-edition release from Wednesday (6/17) @ 12 PM ET through Sunday (6/21) @ 11:59 PM ET on our homepage, Bottleneckgallery.com!
The artwork is released in conjunction with Acme Archives, the official Star Wars licensee."