Star Wars Skywalker Saga 9 Film Collection Coming Soon on 4K
Star Wars fans, we may be getting the ultimate Skywalker Saga at home. While specific details are not available quite yet, Best Buy is now taking preorders for a 9-film box set of the Skywalker Saga Star Wars films. The box will include the movies on 4K Blu-ray, Blu-ray, and will also include a digital copy. The set will feature 27-discs at all, so once you go through all nine films each getting their own Blu-ray and 4K discs, that is only 18. So…what exactly do we think will think are on the other nine?
The packaging looks awesome. The Star Wars films will come housed in an outer box with the Death Star on the front. The discs will be inside a booklet, featuring art from the films.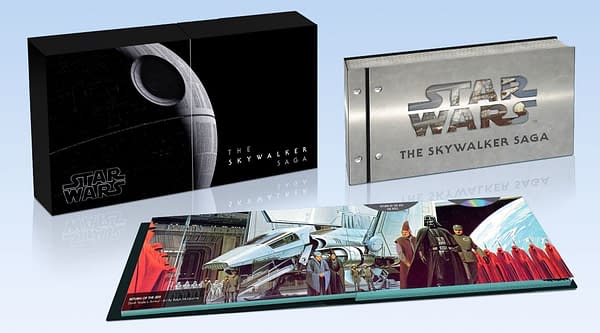 Of course, the nine films inside this Star Wars box set will include:
The Phantom Menace
Attack of the Clones
Revenge of the Sith
A New Hope
Empire Strikes Back
Return of the Jedi
The Force Awakens
The Last Jedi
The Rise of Skywalker
Because they are not part of the Skywalker Saga, both Rogue One and Solo will not be included. Or, maybe they will! Like I said: we do not know yet. MAYBE we will see the uncut original theatrical versions. I doubt it, but that would be interesting. Also, maybe some kind of new special features. Please don't just regurgitate all the same things we have already seen on previous Star Wars releases. That is probably my biggest fear here. For $249.99, I want some new stuff.
You can preorder the set right now here.