Swallow Will Release On Blu-ray August 4th From Scream Factory
One of the more messed up films of the year so far, Swallow is getting a Blu-ray release this August. Scream Factory will be releasing the disc, though not with the usual amount of exhaustive special features. This is the body horror film that became the talk of social media earlier this spring. Featuring Haley Bennett, Austin Stowell, Denis O'Hare, and Elizabeth Marvel, this one will have you squirming and watching through your fingers. Swallow is an excellent film, and for sure one, you should watch, just make sure you are ready. This is not a spur of the moment watch. Check out the Blu-ray cover, synopsis, and trailer for Swallow below.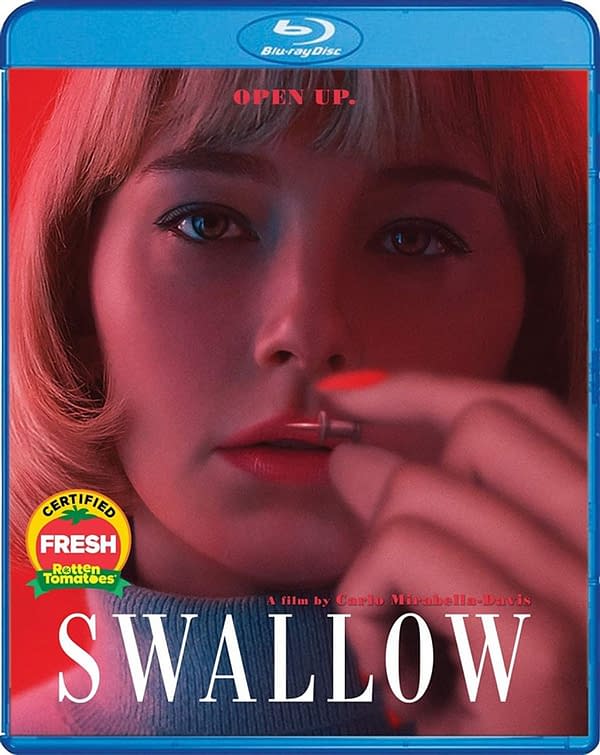 Swallow Synopsis & Trailer
"On the surface, Hunter Conrad (Haley Bennett) appears to have it all. A newly pregnant housewife, Hunter seems content to spend her time tending to an immaculate home and doting on her Ken-doll husband, Richie (Austin Stowell). However, as the pressure to meet her controlling in-laws and husband's rigid expectations mounts, cracks begin to appear in her carefully created facade. Hunter develops a dangerous habit, and a dark secret from her past seeps out in the form of a disorder called pica – a condition that has her compulsively swallowing inedible, and oftentimes life-threatening, objects."
The Blu-ray disc will only have the trailer and a descriptive audio track on it, but that is for the best. I don't want to see behind the scenes for this film. Swallow pulls no punches, and once it gets going, that refuses to let you out of its grasp. It is hard, I want to say this is a must-own because it is so well done, but I will feel so strange owning it. We shall see, I guess, when it releases August 4th.