Watch: Trailer for Terry Gilliam's 'The Man Who Killed Don Quixote'
Five years is a crazy long time for any film to be in production these days, so take into account the 18 years Terry Gilliam has been developing his The Man Who Killed Don Quixote. The Monty Python member has long called the film his passion project, and we finally have a trailer to show off some of that hard work.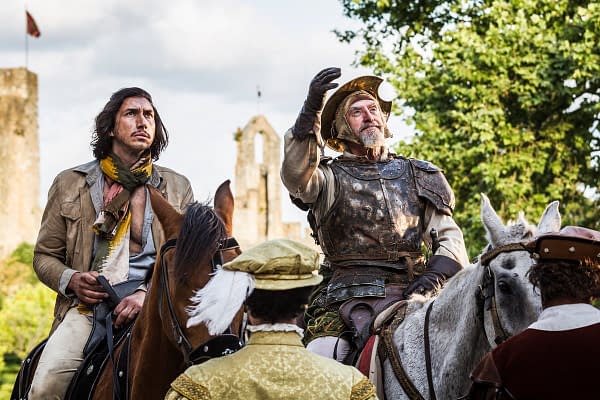 The film is said to jump between the modern day and 17th century Spain, centering on a man (Jonathan Pryce) who believes he is the main character from the classic Miguel de Cervantes Saavedra novel, Don Quixote. Adam Driver plays a modern-day ad exec named Toby who gets mistaken by the old man for Quixote's right hand man, Sancho Panza.
Way back in 2000, Jean Rochefort was on board to play Quixote and Johnny Depp was going to be playing the Toby/Sancho character. That version actually went into production, but constant battles with location problems along with Rochefort getting injured (meaning he was unable to film) caused an indefinite shutdown.
There was also the intended BTS feature that ended up becoming a full on documentary film (Lost in La Mancha), which delved slightly into the near mania Gilliam had thrown himself into trying to create and finish the film.
Several starts and stalls have plagued the production since day one, and however you feel about the director, it's admirable to see the long running dream in some semblance of realization.

Here's the English trailer:
There is no official release date for The Man Who Killed Don Quixote, but an official website and Twitter account for the film both now optimistically say it'll be sometime in 2018.