Thanksgiving Adds Gina Gershon, Tim Dillon, Rick Hoffman To Cast
Three more cast member have been added to Eli Roth's slasher Thanksgiving, which is starting production this month.
---
Thanksgiving, the slasher film from Eli Roth based on his Grindhouse fake trailer, is gearing up to start shooting this month after years and years of promises and development hell. After nabbing Patrick Dempsey and Addison Rae as leads, as well as Jalen Thomas Brooks ("Walker") and Nell Verlaque ("Big Shot"), and Milo Manheim (Disney's Zombies franchise), three more have signed on to round out the main cast. Gina Gershon, Tim Dillon, and Rick Hoffman will also join in the mayhem. Spyglass Media, who has jumped into horror with both feet these last two years to major success, is producing the film, with Roth directing a script by Jeff Rendel. Deadline had the casting news.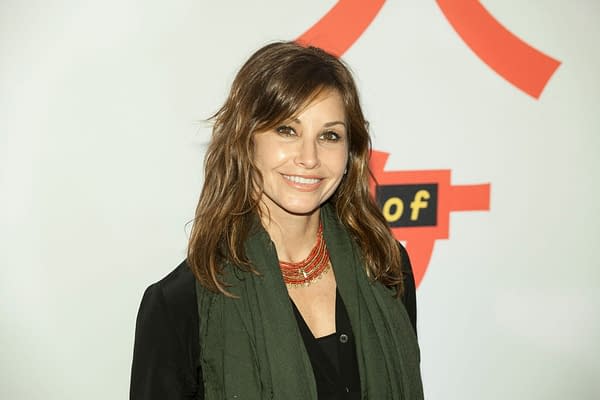 Eli Roth Finally Giving Us What We Have Always Wanted With Thanksgiving
Sometimes in this job, we have to write about things we are not interested in. That is not the case here. I personally have written a few times about how Eli Roth needed to make this damn movie, and I cannot believe that day is here. Here are some quotes from an article I wrote in 2018 about the possible film:
"Eleven years later, we horror fans still wait for this film to actually be made. Roth, of course, has been asked constantly over the years about Thanksgiving, going as far as saying last in 2016 that they have been taking a wack at it during a Reddit AMA":
Have a draft not totally happy with. I want to put some more work into it so the film lives up to the trailer. We have the story and mythology cracked so now it's about getting the kills right.
"Grindhouse did bomb pretty hard at the box office, killing plans for the trailers to all get spin-off films and such, but the box office is not as much a worry anymore. Sure, seeing this with a theater full of horror fans would be the way to see it, but it doesn't have to be that way. Now that we have streaming avenues like Netflix and Shudder, a major studio is not the only one who would have to step up and get Thanksgiving done. Keep the budget low, keep the spirit alive, and it would be a complete home run. I mean, this synopsis he told to Rolling Stone in 2007 says it all":
My friend Jeff… we had the whole movie worked out," Roth told the magazine. "A kid who's in love with a turkey and then his father killed it and then he killed his family and went away to a mental institution and came back and took revenge on the town.
More on Thanksgiving, as we find it out for sure.