The Interstellar Press Conference – Michael Caine Doesn't Like Digital And Not A Lot Of People Know That
Interstellar Press Conference – Christopher Nolan, Anne Hatheway, Matthew McConaughey, Sir Michael Caine, Jessica Chastain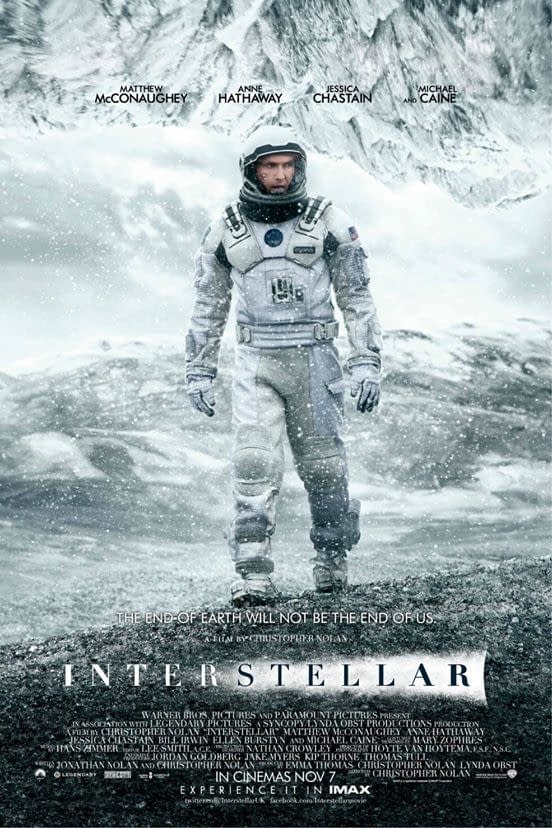 Patrick Dane writes for Bleeding Cool
Interstellar is quickly becoming one of the most divisive Nolan films ever. And rightly so. It's a movie full to the brim with diversive qualities, all with varying degrees of quality. It's is no doubt a messy movie, but certainly a fascinating one. (For further explanation, be sure to check out my review here [Link to review])
Last week, I was kindly invited down to the Interstellar press conference at the rather historic Claridges hotel down in the centre of London. In attendance were Christopher Nolan, Emma Thomas, Anne Hatheway, Matthew McConaughey, Michael Caine, Jessica Chastain and Mackenzie Foy.
Here are some highlights from the conference for what will no doubt be a hotly discussed film.
Regarding the tag line '"Mankind was born on Earth. It was never meant to die here', Christopher Nolan pointed out:
"I think it's a reassuring sentiment. Interstellar is optimistic in that it's really saying that mankind exists independent of its particular situation. Really, the film is fiction. It feeds off some of our worries and concerns that are very valid today but really it is about saying what is mankind's place in the universe and can we exist off of Earth, I think it is a very exciting thing to deal with. Dramatically, I felt it was important that we have to deal with that out of necessity, but I think in real life it would be far better if we dealt with that instead out of choice."
Nolan also talked about wanting to shoot as much of the film as possible on IMAX film and what he thinks that brings to Interstellar.
"For me, the great thing about movies has always been the large audience experience. One of my earliest movie-going memories was going to Leicester Square and seeing '2001: A Space Odyssey' when I was seven. I've never forgotten the scale of that experience. I saw my first IMAX film when I was 15 and I immediately wanted to make features with it. Working on that scale in the medium is, for me, just a longheld dream."
Sir Michael Caine discussed working with Christopher Nolan and why he has come back for the sixth movie with the director:
"You spend your whole life as an actor making a picture saying, "Is it going to be a hit? I have six pictures working with Christopher and everyone was a hit. So, whenever he says, "Do you want to do a movie?" I say, "Yes". He says, "Do you want to read the script?" I say, "No."

"It's quite extraordinary working with him because he also writes it. Nothing is what it seems. I mean the first time he contacted me with a script he came to my house and said, "I've got a movie," and I said, "What is it?" He said, "Batman." I thought, "I'm too old to play Batman. [laughs] What does he want me to play?" And he said, "I want you to play the butler" I read the script and it wasn't just a butler, it was a foster father of Batman. Nothing is what it seems with Chris."
Michael Caine also went on to talk about learning some of the frankly absurd science in the film and working with Kip Thorne:
"I didn't understand wormholes until this movie, and then I met Kip Thorne, who I think invented wormholes … or did he discover them? I'm playing him in the movie. I know a lot about wormholes now. I've seen the movie and I've seen a wormhole.

I thought I knew what I was doing. I grew a beard just like him. Then I asked him questions about anything that was puzzling me. Then I had my office, which he designed. In there was an algebra problem which was about 50 feet long by four feet high. And I thought "I may have come up against something here that I might not be good at." So I said, "How many problems is that?" And he said, "It's one." I said, "Do you know what it means?" He said, "I wrote it." I said, "Do you know the answer?" He said, "Yes. But it's too difficult for you to understand."
Interestingly, Caine also weighed in on whether he enjoys working with film, which Nolan is devout to, or digital.
"As an actor, my attitude towards it is, if you shoot on film, they have to cut eventually. You don't have to learn all that dialogue. With digital, they can just go on forever and it's a nightmare.

"I like film. Nice short takes."

"I just worked with Paolo Sorrentino. He has four cameras and he doesn't even rehearse because he has digital. You just go in there and you go fluffing through it. He doesn't care. You just keep going and going and going and going. Then you go home. Then you come back the next day… I prefer film."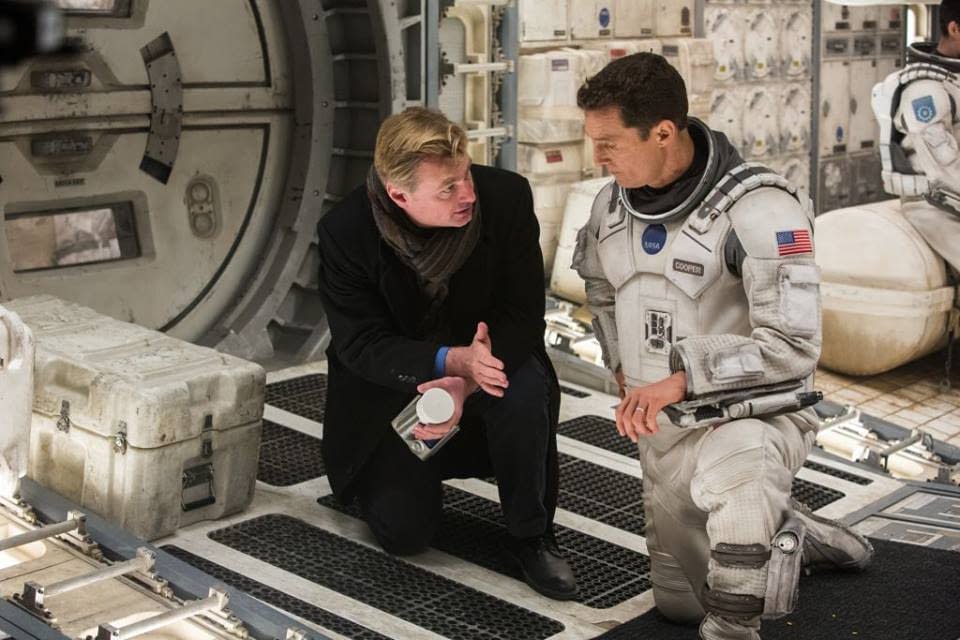 Matthew McConaughey also talked about working with Christopher Nolan and making the transition from Dallas Buyers Club to a much bigger movie in Interstellar.
"What's amazing to me is that while the excitement of the story lies in its scope, the thrill of adventure and discovery of the unknown, one of my favourite things about Chris Nolan is the heartbeat he gives his films. No one handles the mass and scale of a world like he does because it always comes off as something personal and intimate."

"[Dallas Buyer's Club] felt just as raw and natural as most independents are forced to feel because you don't have the time and you don't have the money. [On Interstellar], we had the time and the money but when you're actually shooting, it's very intimate. I never felt overwhelmed by the scope of it. I've talked to actors who felt like they've gotten lost in the experiences they had on big action films or films with large sets, but I don't believe that anyone felt like they were overwhelmed by the massive scale on 'Interstellar."
Anne Hatheway spoke about working in the practical costumes and how this was just as much hard work as The Dark Knight Rises.
"In my fitting, I thought, "This is heavy and starting to pinch my shoulders.'"I realised I wasn't going to be able to not go to the gym. I was like, "Woo, I'm not wearing a catsuit in this one, I can eat!" But I did have to work out just as hard to be able to stand up in the spacesuit and make it through the days."
Jessica Chastain weighed in on working on the scale that comes with Christopher Nolan and why she wouldn't normally take on a movie like this.
"I'd always been afraid that jumping on bigger budget films, you'd lose the relationships in favour of special effects, but the great thing about working with Chris is it's a practical sets. You actually have things to react to as an actor, which is awesome. There's no green screen. They were chucking dust in my face every day, there was real corn that they grew."
Producer of the film Emma Thomas did reference earlier on that even though that might be the case, this was still a blockbuster movie with huge sets.
"Whilst we were doing a lot of the more intimate character stuff we had these massive, disparate locations to shoot in. Iceland is a amazing, a lot of the locations we were in were incredibly remote and incredibly challenging places to be, just because of the conditions. The biggest challenge was getting spaceships and crews to the locations, but I think it really paid off and it's a lot more fun to watch it than it was to be there in some cases."
Interstellar is out now. I'd encourage you to go see it. I have major problems with it, but there's plenty to admire within. I do appreciate hearing the cast and especially the press shy Nolan talk about the film in person. It is for sure a unique blockbuster and seeing the man who helmed it talk about the project was a unique opportunity.
Patrick Dane, once a would be filmmaker, has somewhat accidentally found himself as an entertainment journalist over the past two years. You may recognize him from around these parts, or you may not. Who's counting? From E3 to SDCC to the Top Gear track, Patrick has explored the world of entertainment wherever it has taken him. He is always happy to talk words at you. Hopefully the ones above will suffice your needs.