"The Irishman" a Scorsese Mob Powder Keg Reunion for DeNiro, Pesci and Pacino [TRAILER]
Netflix released the latest trailer for Martin Scorsese's The Irishman reuniting frequent collaborators Robert DeNiro and Joe Pesci. Based on the Charles Brandt novel "I Heard You Paint Houses" and adapted for the screen by Steven Zaillian, the film follows the life of World War II-veteran-turned mob hitman Frank Sheeran (DeNiro), who remembers his relationship to his close friend and labor union activist and Teamsters founder Jimmy Hoffa (Pacino).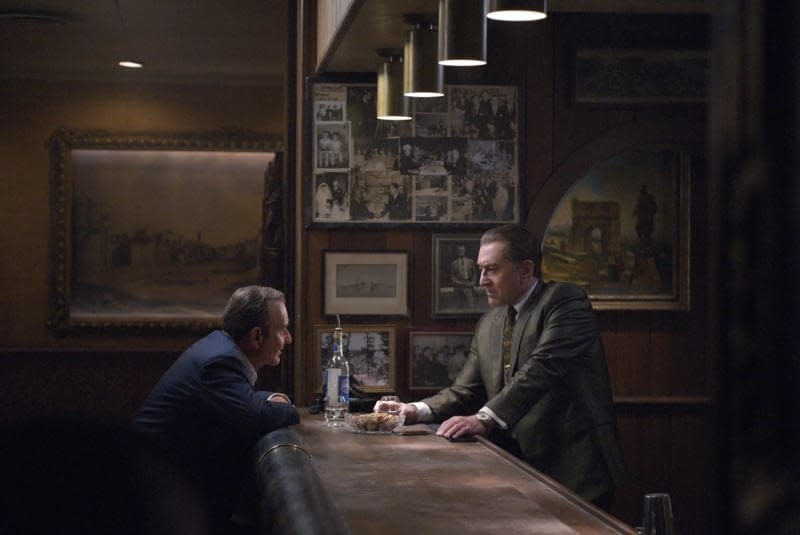 The Irishman spans decades chronicling infamous moments from Sheeran's history like the Robert Kennedy assassination, Hoffa's disappearance in 1975, and his dealings with the Bufalino family. The project took 12 years to get off the ground. The film takes advantage from Industrial Light and Magic's VFX use of de-aging on DeNiro.
The Irishman marks the ninth feature between DeNiro and Scorsese, fourth with Pesci who came out of retirement to play mob boss Russell Bufalino. The previous three films are Raging Bull (1980), Goodfellas (1990) and Casino (1995), the last was 24 years ago. This also marks the fourth film between DeNiro and Pacino, but Pacino's first under Scorsese.
Frank Sheeran maintains ties with the Bufalino crime family and claims to have killed fellow Teamster Jimmy Hoffa.
Sheeran was born on October 25, 1920, in Camden, New Jersey. According to Brandt, he enlisted in the US Army in August 1941 where he served a total of 411 days in duty predominantly during World War II. Following his service, he started associating himself with the Bufalino family acting as muscle and became a trusted hitman before meeting Hoffa. He would also act as Hoffa's muscle during his run as Teamsters' president.
The Irishman stars DeNiro, Pesci, Pacino, Harvey Keitel, Bobby Cannavale, Anna Paquin, and Ray Romano.
The film will premiere at the New York Film Festival on September 27th and is scheduled for a limited release in late 2019 before it streams on Netflix.