Chadwick Boseman Arrives at Black Panther Premiere In T'Challa Style
We are so excited for next month and the opening of Black Panther in theaters! Today, Marvel has been awesome enough to share with the world via twitter some of the moments at the world premiere of the film in Los Angeles.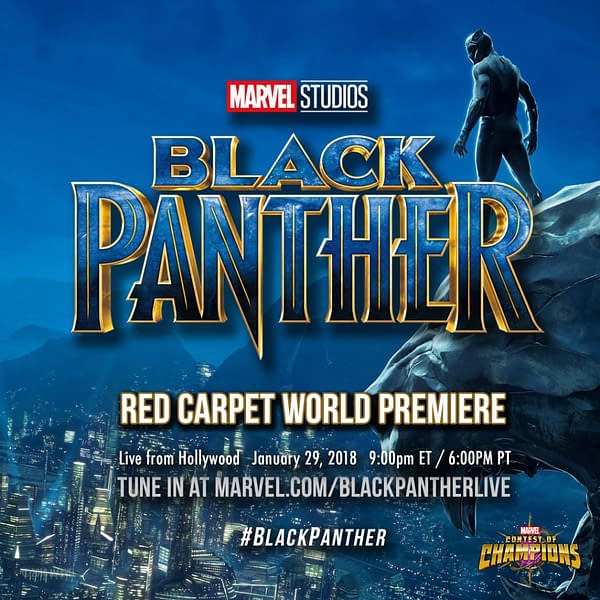 Marvel Studios is keeping us well supplied with images from the carpet:
Unnnnf Lupita Nyong'o looks incredible in her purple gown:
Chadwick Boseman who is playing the title character just showed up in classic royal style- flanked by the Dora Milaje:
Danai Gurira SLAYIN' in this pink gown:
Boseman with a seriously powerful pose:
Black Panther director Ryan Coogler and Michael B Jordan are in the house:
The rest of the Dora Milaje looking like the fierce warriors they are:
Marvel did livestream the red carpet portion of tonight's event, but we're hoping they'll make the stream available later for those of us who missed it.
Check out the purple carpet!
Turns out that Chadwick is also taking over the official Marvel instagram tonight, so expect there to be some great stuff there.
Here's Oscar nominee Daniel Kaluuya greeting fans:
Here's some of the fabulous artwork on display:
Stan Lee is in the house:
And poor James Gunn is stuck in traffic trying to get to the premiere:
Marvel Studios visual development supervisor & concept artist on Thor: Ragnarok, Ant-Man & the Wasp, and Captain Marvel Andy Park tweeted out this fabulous shot from his vantage point on the purple carpet: