The Mortuary Collection: Clancy Brown Breaks Down Film, Talks Dexter
Clancy Brown is one of Hollywood's busiest actors, working in almost 300 projects in his nearly 40-year career across film and television in live-action and behind the booth performing in voiceover roles. In The Mortuary Collection, he plays Montgomery Dark. A mortician who's seen death takes many forms with the bodies he receives, sharing their tales with a prospective applicant Sam (Caitlin Custer), who is curious about what she'll be getting into. I spoke with Brown about the intrigue behind the stories, working with writer and director Ryan Spindell and his chemistry with Custer.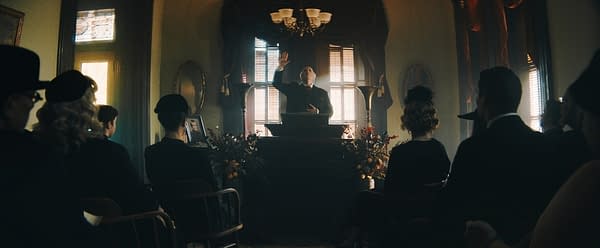 "The quality writing was terrific, and I got sent the script in and a link to the babysitter murders," Brown said. "When I read the script, it didn't have the script for babysitters. I just had a little blue card and said, 'This is where the babysitter murders go.' I read the rest of the script, and so I had to watch the babysitter murders to see what exactly happened. I loved the joke and the many layers of the babysitter murders and then the many ways that it became a part of The Mortuary Collection. I just thought it was some of the best writing, some of the cleverest writing and storytelling that I've seen in a long, long time."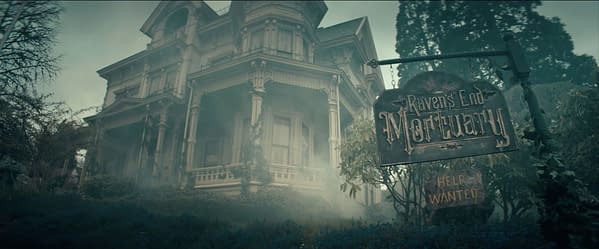 Brown credits Spindell with not only his creativity but also pacing and build-up. "Ryan is a tremendous storyteller, and then, of course, the babysitter murders is extremely well done," he said. "You know, it's one of the things about this movie is it makes you feel very comfortable watching. It looks very familiar and comfortable watching you feel like 'I know what's going to happen next.' Even though what happens next does happen, it goes further than you ever expected, and so it does kind of still give you that shock because he just takes it to a higher price every single time. I think it tricks you a little further than you expected to be tricked. I just loved every level of his sense of humor. And there's no semantics in storytelling, you know, his attention to detail, all that stuff. When I met him, he told me how he was told that he could never get this movie made, and so I said, 'Well, let's go make it.'"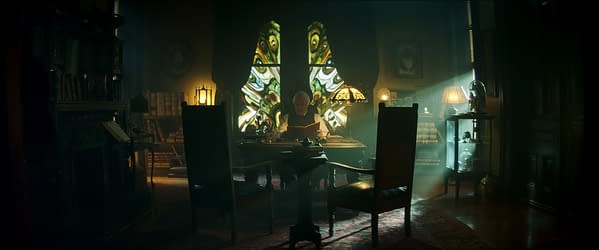 Brown talked about how Spindell conceptualized his character."[Dark] came from Ryan's head," he said. "He had the artwork. Dark had a specific way of talking, reminiscent of an amicus character. It's that familiarity. You feel like you know this character because you've seen him so often or something similar in films. He's kind of original and derivative a character, which I think is a cool trick to pull off. When we put the makeup on and he sort of adjusted the makeup to even a little bit further to make it a little bit less monstrous and more realistic. You know, taking more advantage of what I actually look like and then making it all appliances, and we just sort of collaborated on the work, and it was just really appropriate. He's got a very clear idea of what he wants without being overbearing about it."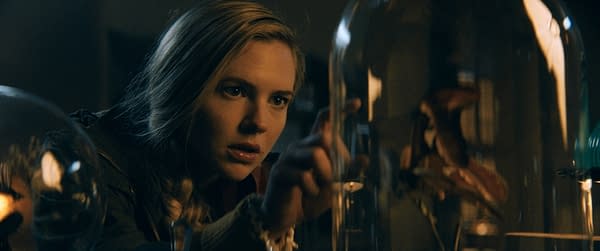 Since The Mortuary Collection is an anthology, Brown broke down how his scenes with Custer's Sam throughout the film. "You know, every segment moves a little bit further down the path," he said. "You know, she has her commentary about the segments. So it flows all the pieces kind of play together. The stories get more complicated and more holistic and more profound, really. So you get to, and so you get to the main joke of the whole thing, which is the babysitter murders. Even then, you don't know the whole story until the end. Even when you anticipate what the end would be, it ends up surprising on another level."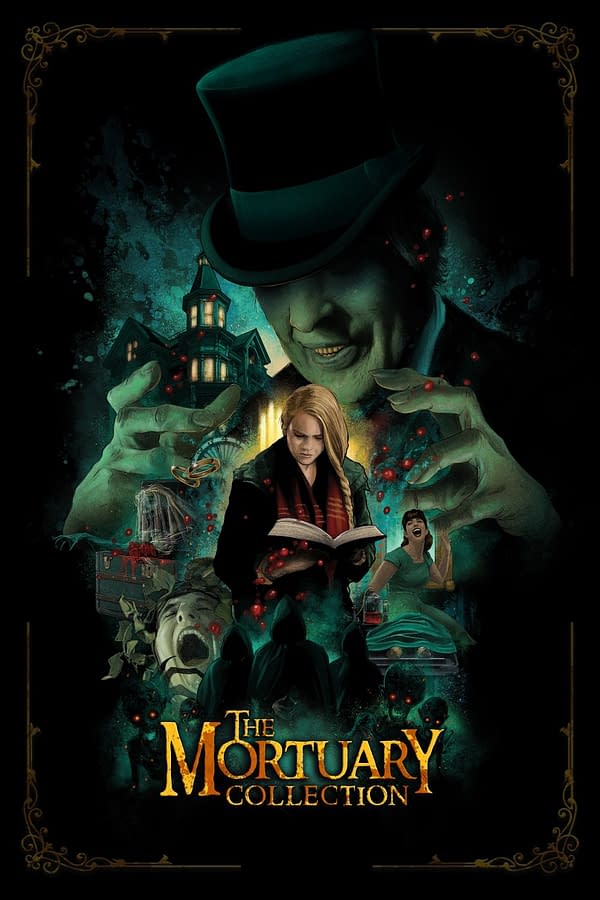 When it came to working with Custer, there was organic chemistry between Dark and Sam. "We play it like, you know, like scolding, like somebody being disrespectful. [Sometimes] like somebody trying to prove something or, you know, whatever it was," he said. "You play like a teacher, student rivals, you know, whatever, whatever needed to happen, whatever, whatever angle we thought. I think at one point; I treated her like she was a thief. There were all these little jokes." When it comes to Brown's upcoming role as Kurt Caldwell in the Dexter revival series, he wasn't able to say much. "What I know is I don't know that much. I only read a couple of scripts, and we're filming in Massachusetts." In addition to the series upcoming return on Showtime, Brown lends his voice as Damien Darkblood in Amazon Prime Video's Invincible. The Mortuary Collection from RLJE Films, which also stars Christine Kilmer and Jacob Elordi, is available to stream on Shudder and will be available on VOD, Digital HD, DVD, and Blu-ray on April 20.