Looks like Tianying Media has picked up The Last Resort, a science fiction live-action comedy project (not sure if tv series or film yet) based on Stan Lee and artist Frank Springer's "The Virtue of Vera Valiant".
While not one of Lee's more well-known comic strip titles, the premise is interesting.  Vera Valiant becomes the owner of a hotel after it's bequeathed to her, but it isn't just any ol Marriott or Hilton.  This one just so happens to be in space, which of course opens up all kinds of possibilities.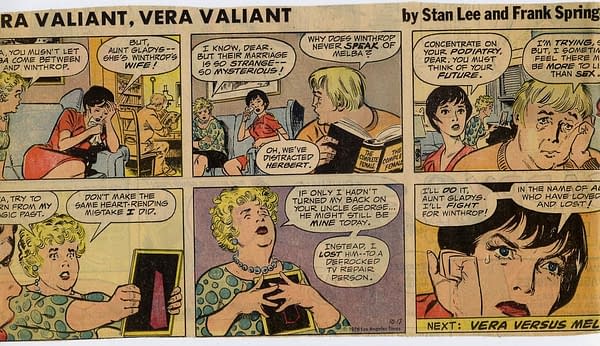 Bob Underwood and Lee Underwood wrote the most recent screenplay of the project, and reportedly Tianying is hoping to start production later this year. There is also word of a local Chinese 'lead comedy team' being brought on as well, which makes sense.
CEO of Tianying Media Wu Jian said of the project that the company is "are focusing on the Chinese market, a rapidly growing audience that is extremely hungry for new ideas and a variety of different films."
Roaring China founders Eilliot Tong and Reinhard Schreiner brought the title to Tianying Media, Tong saying of the project: "We want to keep this momentum going with more acquisitions. This is a great feat for Tianying Media and Chinese production as a whole."
POW! EntertainmentRandy Stan Lee, Sheri Rosenberg Kelton and Bob Underwood will also be executive producers, and Randy Mendelsohn from Tianying.
"We are taking excellent screenwriting from the West and adding local flavors and marketing sense required for the Chinese audience," President of Production for Tianying Media Zhou Zheng said. "The market is ready for this."
We'll let you know when any additional information about the project becomes available.
Enjoyed this article? Share it!