New Era 2018 NFL Draft Hats Available Now, Not the Greatest Ever
New Ear has revealed their 2018 NFL Draft hats and they are… interesting this year. I look forward to getting this release every year (I have every Cleveland Browns draft hat since 2003 because I hate myself), and this may be the first year I skip. I am not the biggest fan of the "team slogan" concept for the hats. The added team phrase on the inside of the bill is a nice touch, but I wish they had just done those on the inside only. The hats will come in both 59Fifty and 39Thirty styles, so fitted and stretch fits. I do like the gray panels and such however.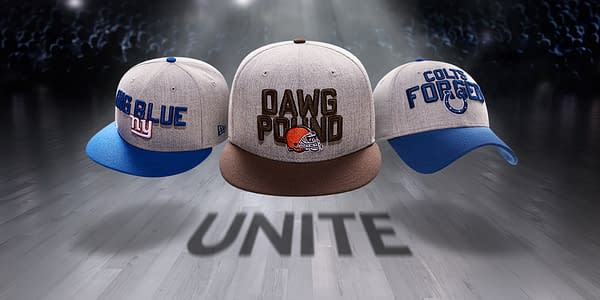 We can't help you get to kick-off any quicker, but we can help you focus your attention towards the upcoming NFL draft with these new 2018 NFL Draft Caps by New Era! The NFL draft is almost upon us, and on April 26 the pressure is on for each team to make the right decisions that will shape the future of each franchise. New Era has released to the public the official NFL Draft Hatsthat each draftee who takes the stage will wear to rep their new employer. But instead of the traditional team names, each hat will feature an iconic team-specific phrase.

Along with the unique phrases on the front, the caps added even more team personalization with another phrase on the inside band of the hats. Like a team picking a new player in the draft, when it comes to choosing a hat you're always looking for the right fit. With styles including New Era 59FIFTY (fitted) and 39THIRTY (stretch fit), this cap is it!

We know it's a long wait until September, so until then, it's time to get excited for the new NFL prospects! Show us your NFL Draft Day spirit and say it with a hat! The designs are definitely different from previous years, and we think it's fun to mix things up!