 Actor/writer/director Jessie Kahnweiler (Meet My Rapist, The Skinny) will be applying some of her "triple threat" skills to the CW's adaptation of The Viagra Diaries. Based on Barbara Rose Booker's popular 2009 novel, Kahnweiler will write the series adaptation; and serve as executive producer with Erwin More and Brian Medavoy (American High, Just Shoot Me). Alan Nevins and Suzy Unger will also serve as producers.
The CW's adaptation of The Viagra Diaries centers on Kit, a gorgeous intern new in town who gets the break of a lifetime when she poses as the online avatar for her literary hero, Anny, a 40-year-old journalist fighting to stay relevant. Anny must keep her true identity hidden just as her writing finds a new worldwide audience and Kit gets all the credit.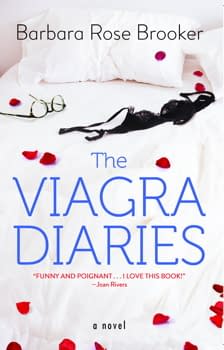 As you can see from the original synopsis for the book from publisher Simon & Schuster, the network is clearly making some adjustments to the overall storyline:
Just because Anny Applebaum qualifies for a senior discount doesn't mean she's ready for retirement. But if she wants to keep her job at the San Francisco Times, she'll have to find a way to spice up her lifestyle column. Even if it means posting her profile as an eligible single on JDate .com. Sure, Anny's a little out of practice. She hasn't been with a man since she found Viagra in her ex-husband's suit pocket, and he wasn't taking it for her. But she's got her friends to help her fumble her way through the strange and intriguing world of online dating.

After hearing cautionary tales from the trenches—about "boomer oldies" who drag around pictures of their dead wives and fixed-income misers who wine and dine their dates at chain restaurants—Anny is relieved to meet Marv Rothstein, a charming . . . 75-year-old diamond dealer. Unfortunately, he's also a Digital Age Don Juan who prowls singles sites for younger women. Not be outdated by this "Serial JDater," Anny realizes Marv is the perfect subject for her flagging column and chronicles his sexcapades for the reading public. But when the new column becomes an overnight hit, Anny can't help but feel conflicted—because now she's having sex with Mr. X . . . and it's nothing less than extraordinary.
Kahnweiler was first noticed through her short Meet My Rapist, a short film she wrote, directed, and starred in that explored her own experience with sexual assault from a comedic take. She would go on to write, direct, and star in comedic short form series The Skinny, an exploration of a young woman's struggles with bulimia that was also autobiographical. Recently, Kahnweiler developed Bump, a show about surrogacy that sold to ABC digital.
Enjoyed this article? Share it!