After three seasons, Transparent's Maura Pfefferman (Jeffrey Tambor) is about to enter a phase of her life that no one can ever be truly ready for: dating. And she likes it. Amazon Prime released the teaser trailer for the fourth season of Transparent, their award-winning and critically acclaimed original comedy series.
Winner of eight Emmys and two Golden Globes, Transparent tells the story of Tambor's Maura, an elder transgender woman coming to terms with her own identity while also trying to connect with her family and create a new life for herself in the process.
For Tambor, the show's success is based on the viewers' ability to really connect with the Pfeffermans:
"You go to work with a mission statement, as we do, to reflect on people's lives and anxieties, and trying to connect with them. I think one of the things I like most about what we do is that people trust us. We're not messing around…this is a real family, and these are the lessons we're telling."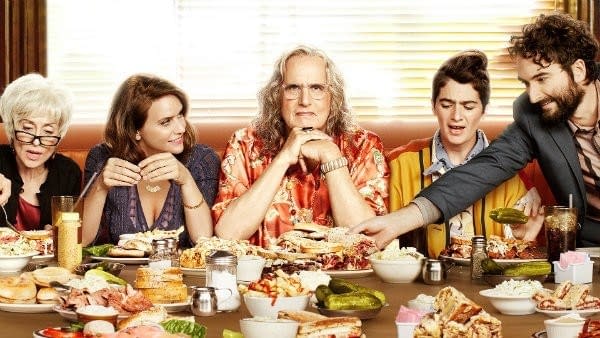 Created by showrunner Jill Soloway (I Love Dick) in 2014, Transparent has become one of the most popular and successful shows offered on Amazon Prime. Though the teaser trailer emphasizes Maura's attempts at having a social life, we see that there's also going to be a decided focus on the other core members of the Pfefferman family: Shelly Pfefferman (Judith Light – Ugly Betty), Sarah Pfefferman (Amy Landecker – Trollhunters), Josh Pfefferman (Jay Duplass – The Mindy Project), and Ali Pfefferman (Gaby Hoffmann – Girls).
But the fourth season of Transparent is also going to be political as well as social, though Soloway was a little hesitant about giving too much away about the new season: "I can't really say more than that, but things will get more political than they've ever been."
Transparent is set to premiere this fall on Amazon Prime.
Enjoyed this article? Share it!