Bring Out Your Dead 814: It's Bleeding Cool's #TheWalkingDead Live-Blog!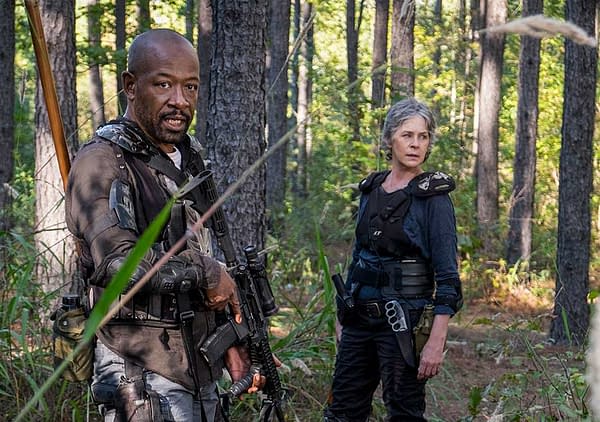 By the time last week's 'Do Not Send Us Astray' wrapped up, we'd witnessed firsthand a whole ton of developments that will play major roles in how "All Out War" comes to a head on AMC's The Walking Dead:
● The opening salvo in the final battle between the Saviors and the Hilltop coalition raged, with both sides suffering huge losses by the time the smoke settled…and the Hilltop witnessing the impact of Negan's (Jeffrey Dean Morgan) bio-warfare against during a literal "night of the living dead."
● Dwight (Austin Amelio) shot – in a non-fatal and pretty sure non-walker-guts-contaminated way – Tara (Alanna Masterson) to keep her from getting killed by Simon (Steven Ogg), but Daryl (Norman Reedus) won't rest until Dwight's six feet under.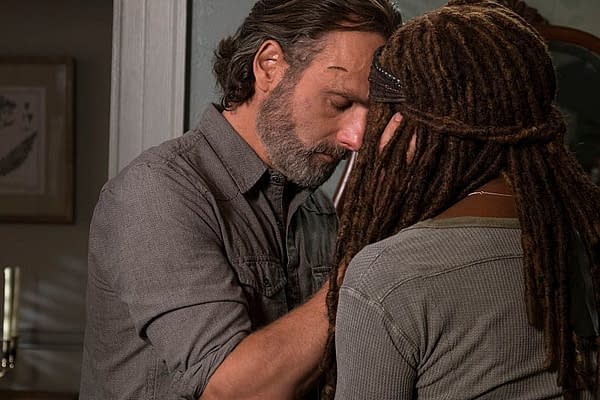 ● Henry (Macsen Lintztries) tries to get revenge on the captured Savior who killed his brother; but to no one's surprise, the Saviors get the drop on him and escape.
● After hearing Simon tell Maggie (Lauren Cohan) that the captured Saviors were pretty much disposable, Alden (Callan McAuliffe) and a number of other Saviors choose to remain and fight for the Hilltop.
All that…and no Negan!
Well this week, we're getting more Negan, more Jadis (Pollyanna McIntosh) and more Morgan (Lennie James) as we take a look at The Walking Dead's fourteenth episode of an intense Season 8, 'Still Gotta Mean Something':
The Walking Dead Episode 8×14 'Still Gotta Mean Something': A Heaps prisoner makes a discovery; Carol searches for someone in the nearby forest; Rick and Morgan find themselves in the company of strangers.

● This page should update…but just to be on the safe side I strongly suggest you refresh every now and then to make sure because I've been known to ramble often and quickly.
● If you're going to social media to talk about what we're talking about, go with: #bclive and #liveblog.
● While you're waiting (or if you just need a breather from my raw, uncut cult-of-personality), check out some of the cool The Walking Dead stuff we have for you below.

Take a look behind the scenes at how the battle between the Saviors and the Hilltop was created in last week's episode:
The Walking Dead stars Andrew Lincoln (Rick Grimes), Jeffrey Dean Morgan (Negan), Norman Reedus (Daryl Dixon), Lauren Cohan (Maggie Greene), Danai Gurira (Michonne), Melissa McBride (Carol Peletier), Lennie James (Morgan Jones), Seth Gilliam (Father Gabriel Stokes), Alanna Masterson (Tara Chambler), Christian Serratos (Rosita Espinosa) and Khary Payton (King Ezekiel); with Gale Anne Hurd, Greg Nicotero, David Alpert, out-going showrunner Scott M. Gimple and franchise creator Robert Kirkman serving as executive producers.