How James Marsters Undercut Joss Whedon From The Beginning, Playing Spike With a Soul #NYCC
The New York Comic Con has been hosting the Angel 20th anniversary panel this weekend, with much of the cast reuniting to talk about the show… twenty years on? Really? Man.
And while everyone was regaling each other with stories old and new, there was one story that seemed… fresher than before.
James Marsters talked about how, in Buffy, Spike's role was to die. He's mentioned this before in previous, earlier interviews when he said,
I remember doing those first five episodes and, it must have been episode three, and Joss (Whedon) almost physically pushing me up against a wall and saying, "I don't care how popular you are; you are going to die, die, die." He made it very clear he did not want the show to be taken over by another romantic vampire. He was not enamored with vampires and that's putting it mildly.

To Joss, vampires were supposed to be ugly, evil, and quick to be killed. He got talked into one romantic vampire by his writing partner David Greenwalt and that was Angel. Of course Angel took off like a rocket and when I was cast Joss did not imagine me to be popular; Spike was supposed to be dirty and evil, punk rock, and then dead. Things started to turn out differently and I think Joss was passionate that I would not corrupt his theme, which was basically trying to find a metaphor for all of the problems you encounter during adolescence. Vampires stood in for those problems and I think I endangered that theme by being popular. He did not want people to like me at all.

At first I was supposed to die in 5 episodes and then the decided to keep me around for 10, but at the end of 10 that was it; I was gone and there was no plan to bring me back at all. It was only when they spun off Angel into a series and lost their Cordelia, which was the character who told Buffy she was stupid and about to die, that they needed someone to tell Buffy she was stupid and about to die, and they decided to bring me back. I failed miserably at that because I could never be around in the daytime to tell Buffy she was stupid and going to die because I was a vampire and going to catch on fire. There were two or three burning blanket episodes in season four, during which I thought I was going to be fired because it was very obvious to me I was not working out as Cordelia.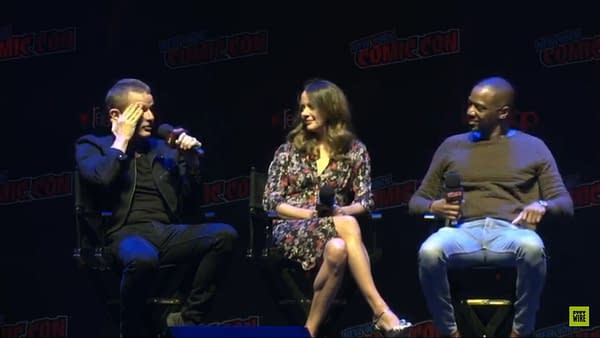 At today's NYCC panel, he echoed much of this with a more revelatory twist, two decades on. How he was only built up to be cool, so that
when Angel killed me he would look awesome. Joss, to his credit, does not believe that evil is cool, he thinks that evil is laughable and I agree, which is why his vampires are hideously ugly when we bite, he doesn't want it to be a sensuous shot/ He got talked into one romantic vampire with Angel , David Greenwalt talked him into that character and Angel took right off.
And he recalled the wall moment again.
Spike was not designed to be a romantic character, and I remember when after a couple of episodes the fan reaction that I was a romantic character, Joss backed me up against a wall, 'I don't care how popular you are, you are dead, you hear me?'. I was, it's your ball, Just don't kill me now, Give me my five episodes, I am poor. He said I was a soulless vampire who didn't care about anybody.
Which is what we'd previously heard, but James recalled his reaction.
I said yeah, you got it, he turned his back and I said F-that. As an actor, you find the love, love denied, love crushed, that's what's going to connect. I found that in Drusella, so I started undercutting Joss' theme from the beginning because I needed a job, I was a new father, getting diapers overwhelmed any respect I had for Joss. I pretty much played Spike with a soul from the very beginning which was wrong… wrong…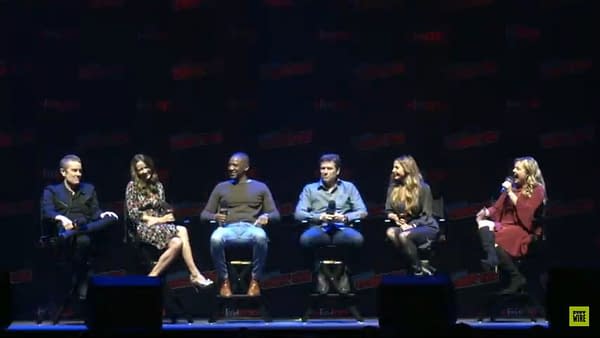 As the session continued, Alexis Denisof added
I'm learning so much, thank you…
To a whispered James,
Don't tell Joss that I said that… he'll be mad…
Not a word, James, not a word.