Spelling Bee R-E-W-I-N-D: A Look Back at the 2017 Scripps National Spelling Bee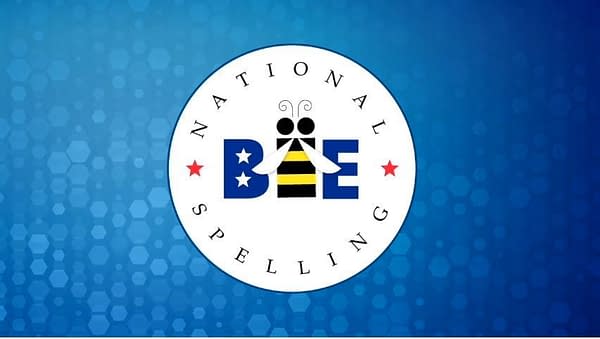 When a record-breaking 516 champion spellers (ages 8 to 15, from all 50 states and around the world) descend upon National Harbor, Maryland, for the 91st Annual Scripps National Spelling Bee, they're doing it for two reasons: to see who has the strongest "word fu" when the dust settles from one of pop culture's brainier battles — and to remind me that I still need to spell-check "cat."
Okay… maybe it's 99.8% the former and nil on the latter… but let's not get distracted.
So between now and through Thursday, May 31st, Bleeding Cool will be offering "pre-game" info (you can start by checking out our guide to where to watch here and our rundown of the rules of "The Bee" here) live-blog coverage of the nation's largest and longest-running educational program. To kick things off, here's a look at what we can expect with a daily overview of this year's Scripps National Spelling Bee:
Every fall, the journey to the Scripps National Spelling Bee begins with thousands of schools and more than 11 million students competing in classroom and school spelling bees. From there, winners advance to local levels usually sponsored by newspapers, community organizations and universities; with those local winners travelling to Washington, D.C., to compete in the National Finals.
Ahead of next week's 91st Annual Scripps National Spelling Bee, here's a look back to 2017 and at how the 291 spelling champs from across the country and around the world fared during their visit to our nation's capital:
Preliminary and early final rounds pared down the number of spellers to 15 by the time ESPN's prime time coverage began; with the competition coming down to 12-year-old Ananya Vinay of Fresno, California, and 14-year-old Rohan Rajeev of Edmond, Oklahoma. After Rajeev missed on his attempt at the Scandinavian-based word "marram" (dress fabric made of silk or rayon, with a filling of other yarns), Vinay was able to spell two words in a row correctly to secure the win.
Though she remained cool and calm as her family rushed the stage to celebrate her win, Vinay represented what is best about this event when she took a moment to console a seated — and clearly disappointed — Rajeev. Oh — and the word that won Vinay the 90th Scripps National Spelling Bee? That would be "marocain": a type of dress fabric of ribbed crepe.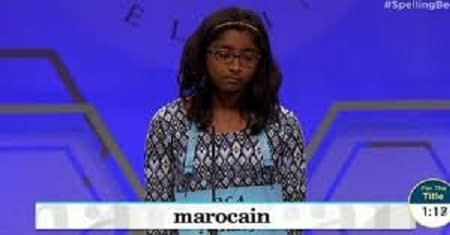 Though she participated in the 2016 Scripps National Spelling Bee, Vinay didn't place in the top 50; and being a sixth-grader at the time of the 2017 bee, she would have been able to return for two more years had she lost. Taking home over $40,000 in cash and prizes, Vinay will now serve in a ceremonial role this year to help present the trophy to the winner.
The 2017 Scripps Spelling Bee marked the first time since 2013 that the spelling bee was able to declare a sole champion. The sponsoring body instituted a tiebreaker system in 2017 after three straight years of ties; though it didn't end up coming into play.