It's Friday, and while that's usually the night to hit the town, the cold weather may be keeping folks in. If you're plan doesn't involve hunkering down to read a book like the recently released Fire and Fury that I've heard a couple people talking about, then you might be turning on the television. Thankfully there are new shows to watch tonight instead of holiday reruns. Among them are a couple of interesting premieres, a new game show, a look into a character's past, and the television directorial debut of a beloved member of the MCU. Here are five things to watch on TV today.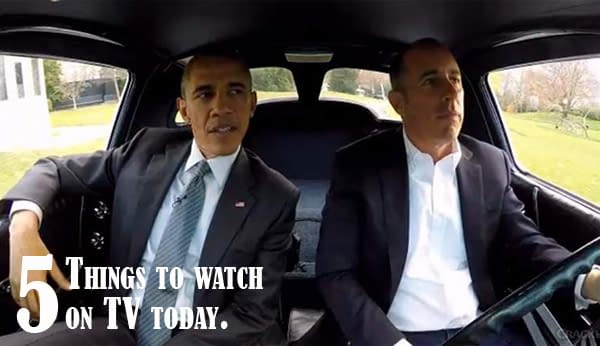 We start out with more of a move than a premiere, but if you haven't watched the Jerry Seinfeld hosted Comedians in Cars Getting Coffee while it was on Crackle, you now have a chance to watch all nine seasons on Netflix. The series debuted in July of 2012 and has featured some pretty interesting guests including Alec Baldwin, Carl Reiner & Mel Brooks, David Letterman, Don Rickles, Patton Oswalt, Tina Fey, Jon Stewart, Amy Schumer, Kevin Hart, Bill Maher, Stephen Colbert, Lorne Michaels, Lewis Black and President Barack Obama. Each episode ranges from 6–23 minutes, and a 10th season is in the works that is believed to include the late Jerry Lewis.
This isn't a premiere for our U.K. readers, but for folks in the U.S., Netflix is debuting The End of the F***ing World, a dark comedy about two teens — a self-proclaimed psychopath (Alex Lawther) and a foul-mouthed rebel (Jessica Barden) — embark on a life-changing road trip. It feels a bit like Dexter the early years as the psychopath recognizes his urges to kill and talks to the viewer about them. The series, created by Jonathan Entwistle, is eight episodes long and was made available at midnight on Netflix.
I'm not a game show connoisseur, so I'm always surprised when one shows up on the television listing — especially when they're hosted by an actor or comedian. ABC is debuting a new game show tonight at 8 p.m. ET called Child Support. The show is hosted by comedian/actor Ricky Gervais and actor Fred Savage. The way the show works is Savage asks contestants up to 10 questions. If they answer one incorrectly, they can be saved by five kids who were asked the same question by Gervais. To be honest, I put this one on the list today because it seems like it might be so bad it could be good.
Tonight's new episode of MacGyver, dives into the past and shows us how MacGyver (Lucas Till) and Jack (George Eads) met. The cause for these flashbacks is them being trapped by The Ghost inside Mac's house, which is rigged with explosives. I always wonder when shows go back and do episodes like this: was their first meeting planned out when the series began, or was this added on later? MacGyver airs at 8 p.m. ET on CBS.
And finally we get to Marvel's Agents of SHIELD at 9 p.m. ET on ABC. This episode has Fitz (Iain De Caestecker) leading a rescue effort to save Daisy (Chloe Bennett) from the "fight to the death" that Fitz put her in. The team gets closer to reuniting now that Fitz is there. The episode is directed by Clark Gregg, who plays Agent Phil Coulson… making him the Director of SHIELD.
Enjoyed this article? Share it!